Updated January 14, 2017

Framed Map of Vintage London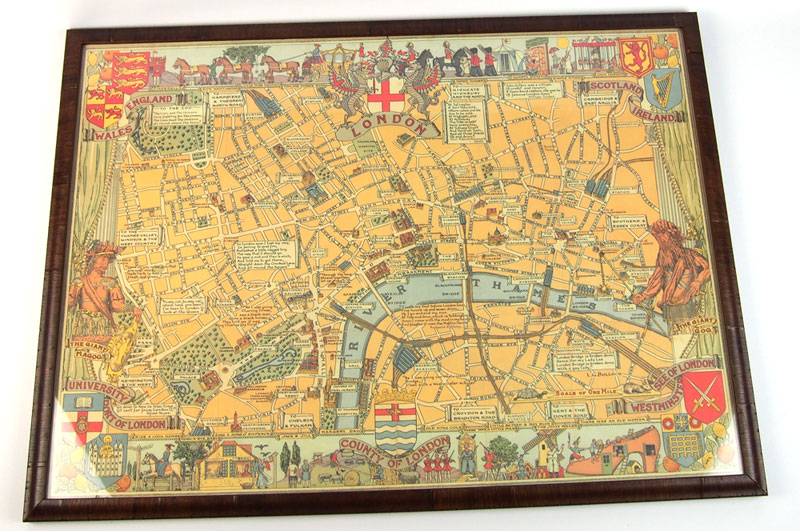 Vintage maps of London are rare, but here is a way to get that "vintage" look without breaking the bank. Here is a reprint of a vintage map from the 1920s that has been nicely framed. The frame has a look that truly compliments the map. There is some minor tearing to the black covering on the back but it isn't as if you'd actually see it. All in all this is a fine piece at a very reasonable price!
Price $40 plus shipping
(Click images below for closer view)
U.S. Army Uniform Print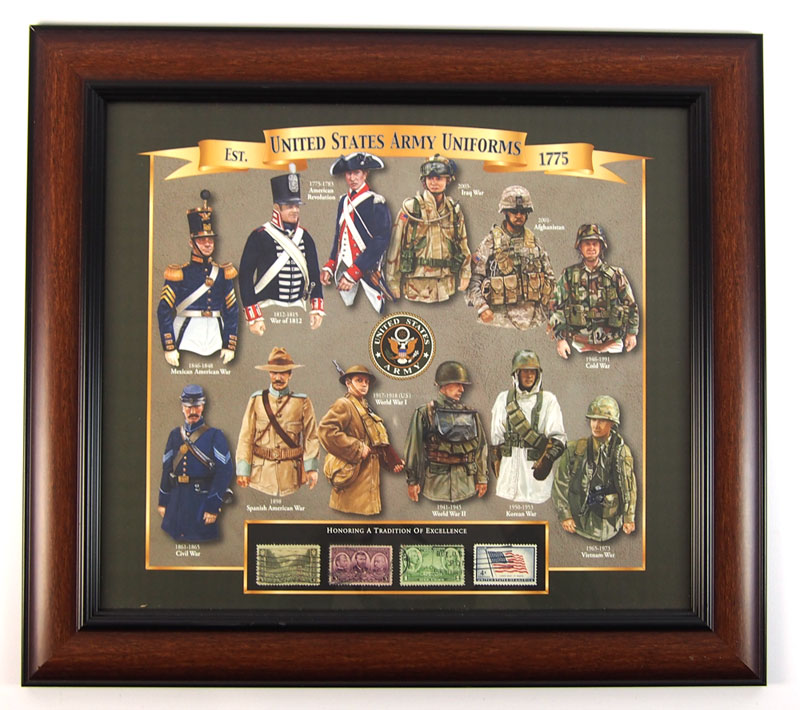 Whether you collect U.S. Army uniforms or just appreciate a nice piece of military-themed art it doesn't get much better than this print that highlights the evolution of the uniform of the American combat uniform from 1775 to the war on terror. 12 different uniforms are represented and included are four vintage stamps that honor the tradition of excellence. This is nicely framed and is complete with its original documentation that includes the history of the respective uniforms.
Price $75 plus shipping
(Click images below for closer view)
Vintage Japanese "World Leaders" Print Circa 1912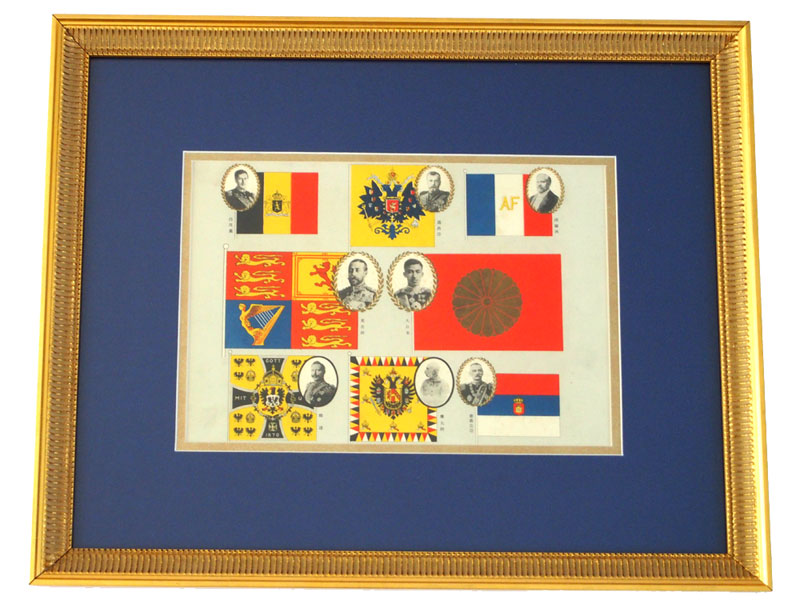 Here is something you really don't see every day: This is a print of the world leaders as seen by Japan circa 1912 based on the inclusion of French President of the Council and Minister of Foreign Affairs Raymond Poincaré. It features the Japanese Emperor Taishō along with Great Britain's King George V in the center – possibly indicating that was in response to the Anglo-Japanese Treaty, which was renewed in 1911.
Above the King and Emperor are (left to right) King Albert I of Belgium, Czar Nicholas II of Russia and the aforementioned Poincaré. At the bottom are Kaiser Wilhelm II of Germany, Emperor Franz Josef of Austra-Hungary and Peter I of Serbia.
The choice of Serbia and Belgium seem odd – considering that Italy is absent and there is no United States. Of course this could be Japanese relations with European nations, but in 1912 Serbia and Japan had no official relations, but the Japanese did join the war against Germany and Austria following the latter's invasion of Serbia.
Whatever the history this is a truly lovely print with vibrant colors. It appears to be in UV protected glass so it should be free of fading. It features not the national flags, but the standards of the leaders of the nations, hence no Union flag for Britain, etc.
It is a lovely piece. The actual print measures about 11-inches by 7 1/2-inches, and it has been nicely matted. The frame measures 17 1/2 by 15-inches. To frame this probably cost well over $100, so considering that this piece is ready to hang I've priced it reasonably.
Price $110 plus shipping
(Click images below for closer view)
Vintage German Globe
A 1930s era globe of the world in German. What is unique about this globe is that it includes the late 19th century/early 20th century German colonies – which were lost following the First World War. This was largely unrecognized in the post-war era in Germany, and this globe presents the colonies as still being German. It also shows trade routes of the era.
The globe is in excellent condition except for the cracking to the glass compass on the base. Overall it displays extremely well and would make an excellent part of an World War II display.
Price $350 plus shipping
(Click images below for closer view)