Updated September 18, 2017

Moro Armor
Here is another item you don't find too often – a nice set of Moro (Philippine, Mindanao) mail and plate armor (kurab-a-kulang). It is made of brass chain mail along with, carabao horn (Philippine buffalo) and was used for  protection for the upper part of the body.
This type of armor was exclusive to the Moro as it was not found among any other Philippine groups, and it is known as kurab-a-kulang, as it was made of a thin plates of carabao horn joined with butted brass mail. The front part is closed with wrought hooks.
This style of armor likely made its way to the Philippines along with the spread of Islam to Maritime Southeast Asia – and similar armor patterns were used in Persia and the Middle East, while some researchers have suggested an Ottoman connection. However, this type of armor was worn far later by the Moros – well into the late 19th century – by which time the armies of Persia and the Ottoman Empire had relegated armor to ceremonial uses.
This set of armor has some "issues" and notably is missing  some of the chainmail on the right shoulder. Some of the plates are also damaged and there are some links missing. Some of these could be addressed, but all in all this set displays well – and likely is well over 100 years old.
It still displays VERY well, and I've tried to price it accordingly.
Price: $1,500 plus shipping
(Click images below for closer view)
19th Century Kulah Khud
A ceremonial copy of the typical "spike" helmet of Indo-Persian design. The Kulah Khud were used in the 16th and 17th century, and later were used for ceremonial and display purposes. This is the latter style, which features a mail curtain (aventail) down the sides and rear of the helmet.
This is a nice example and is reasonably priced, and would make a nice conversation piece!
Price: $150 plus shipping
(Click images below for closer view)

Small African Shield

Long after European and Asian armies stopped using shields these remained in use in Africa, sometimes for combat and sometimes just for ceremonial purposes. Here is one that was likely more of the latter category. It is a nice early to mid 20th century wooden shield of North African origin.
It measures about 25 inches long and is about six inches wide. It was carved from a single piece of wood and shows incredible craftsmanship. It was a small type possible made for an initiation ceremony or other childhood rite of passage.
The shield had been a "wall hanger" at some point as noted by two small nails and string. These could be remove but I've left them in case the next owner would like to hang it up too!
Price $50 plus shipping
(Click images below for closer view)
Indian Buckler Shield – Late 19th Century
Here is an item that was probably intended more as a wall hanger than for actual combat, but it would work in the latter role in a pinch. This is an Indo-Persian buckler shield. It measures about 10 and a half inches across and has two cloth handles along with padding for the hand.
It likely dates from the early British Raj in India when arms and armor were in fashion and in hot demand. It is made of brass with typical Indo-Persian motif adorning the front of the shield. It is a nice piece that could still make for an excellent wall hanger.
Price $200 plus shipping
(Click images below for closer view)
Kettle Helmet and Falchion Sword
The kettle hat – called the "eisenhut" in German or the "chapeau de fer" in French (both of which translate to "iron hat" in English) – was worn by various armies in Medieval Europe. The wide brim was designed to provide protection from blows from above, notably cavalry swords, and it also protected the user from projectiles shot or dropped from above. This style of helmet was generally only used by infantry as it lacked the grace and extravagance of a knight's helmet. This pattern of helmet certainly was an inspiration and influence on the British "Brodie" and later MkI helmets of World War I.
The kettle hat was used alongside the falchion sword, a one-handed, single-edged sword of European origin. It was the last evaluation of the Scramsax or Seax. It had an appearance that was reminiscent of the Chinese dadao or the modern machete – and it was similar in design to the Messer sword of the same era.
Original kettle hats and falchions can fetch several thousand dollars – so if that is out of your budget here is a chance to get these for a fraction of the price. These are two modern made examples, and while it was suggested these could be Victorian copies, these were more likely made by someone who wanted one that was close in design to those period pieces.
The helmet is quite impressive and externally is a spot on copy. It is fitted with a modern liner, which is of course wrong in every way possible. However, the liner could be easily removed and you'd have a rather lovely helmet that has some surface rust along with just the right patina. This one could clean up nicely and be a great alternative to a far more expensive real example.
The falchion is also a great copy. The blade measures about 31 inches and while it has some grind marks on the blade it displays quite well. The kettle hat and falchion are offered together and honestly these are among the nicest copies of medieval armor/arms I've seen in a long time.
Price $350 plus shipping
(Click images below for closer view)

British Raj Era Indo-Persian Shields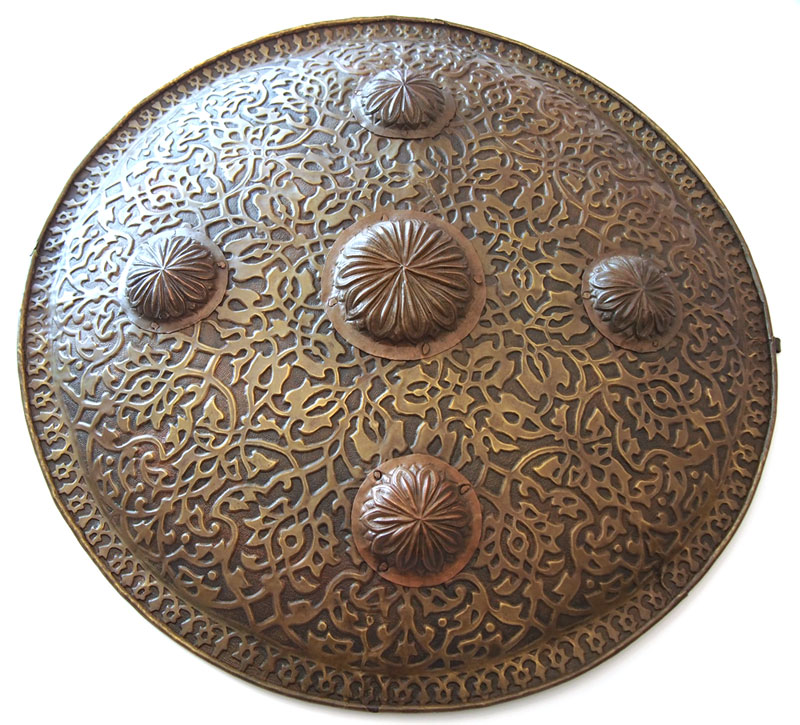 This is a fine looking shield that evokes the style of earlier Indo-Persian shields of the region. This one was likely produced in the latter half of the 19th century when there was a sudden demand for decorative rather than combat-worthy armor and shields. Just as there were Victorian copies of European armor there grew a market for Indo-Persian and even Ottoman shields and weapons. This is such an example.
It it cast rather than being forged, but externally it looks fantastic. It would make a great decorative piece and as with other vintage copies is an affordable way of having the look without the associated costs. This one appears to have a museum number on the handle, and there is some damage that can only be really seen from the inside. All in all this is an excellent piece that is reasonably priced.
Price $250 plus shipping
(Click images below for closer view)
Congo Basin Woven Shield
Shields played a role beyond warfare in Africa as noted by this woven cane shield from the Congo Basin, possibly from the Poto tribe. This shows considerable skill and craftsmanship in how this shield was constructed.
This example features a bold pattern on the front, and the shield is attached to a wooden handle on the backside. This shield measures about 31 inches by 9.5 inches. It likely dates from the late 19th to early 20th century, and had been part of a large New York City collection of ethnographic items.
Price $150 plus shipping
(Click images below for closer view)
Sepik River Shield

Tribal Shields from Papua New Guinea were used in open conflicts and not in ambush war fare. This is the reason that they were brightly painted with dazzling designs as a form of psychological warfare through tribal intimidation. Moreover, not all  Tribal Shields from New Guinea were made as native weapons and some types were used in ceremony. The shields vary greatly based on the tribe and region.
Here is a shield from the Sepik River region. It is almost 43 inches tall and measures 10 inches across. This may have been a ceremonial shield as it appears to have no traditional handle. Despite this it displays very well and is a unique piece that is well over 100 years old.
Price $225 plus shipping
(Click images below for closer view)
Madhi Era Sudanese Helmet
While the Zulu War is largely remembered as one of Britain's late 19th century conflicts, the campaigns in the Sudan were as notable. An Anglo-Egyptian force ran into difficulties in 1882 when attempting to defeat the radical Islamic leader known as the Madhi – so much so that the British largely abandoned the Sudan until 1896 when they put things in order. The Madhi forces weren't exactly skilled warriors, and their appearance at the end of the 19th century could be considered rather archaic in fact.
Offered here is an extremely rare Sudanese helmet from the 19th century. It is a simple bowl design with a chainmail curtain. It features some ornamentation to the top of the helmet but is otherwise rather plain compared to the Indo-Persian or Ottoman helmets of the era. The helmet is in good condition and was likely a souvenir from the 1896 reconquest of the Sudan. It is one of the few examples I've ever seen, and is priced accordingly.
Price $1,500 plus shipping
(Click images below for closer view)
Tibetan Helmet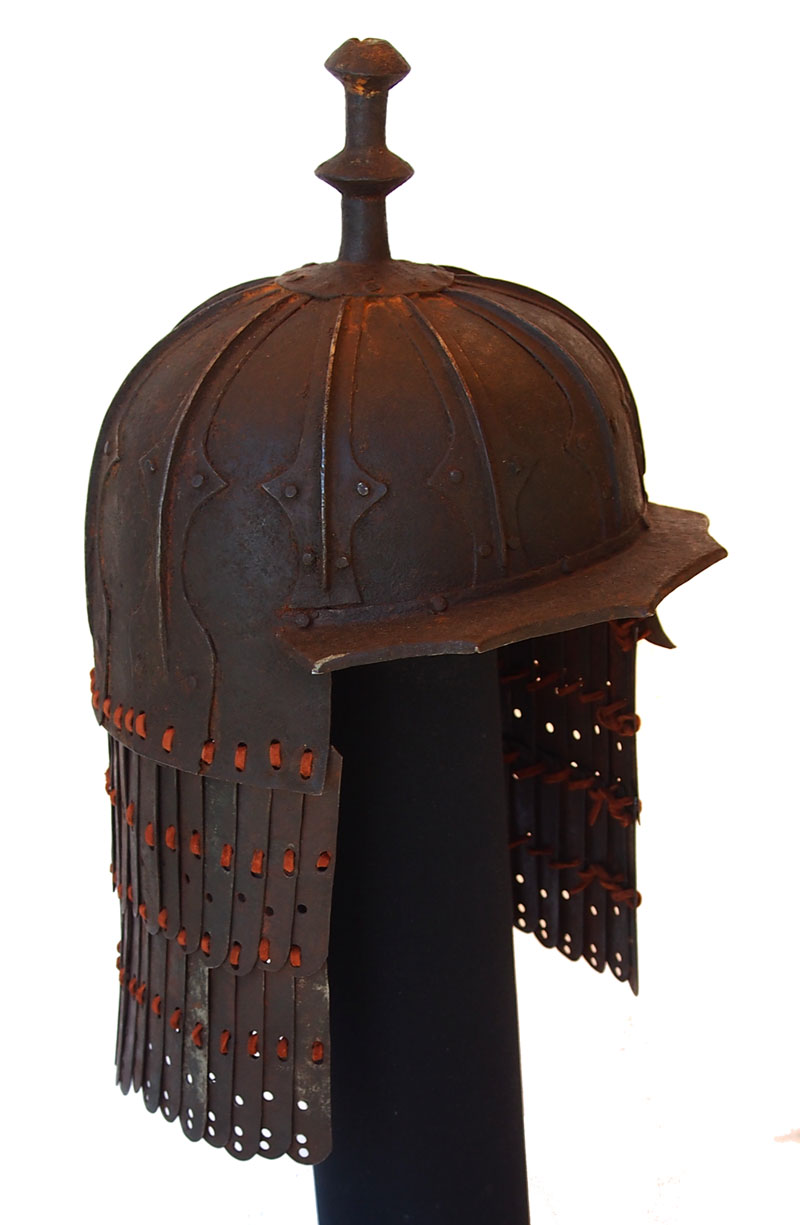 This style of iron helmet with overlapping plates was used from the 8th century to the end of the 19th century. This helmet is likely from the 18th century, but it could be earlier. It features a spool-shaped finial at the dome of the helmet, with a riveted peek and down-turned cusped edge. The neck-guard is formed from a row of overlapping ovoidal plates – each pierced with a pair of holes and laced together with leather thongs.
One plate was missing and a close facsimile was produced. The plates were loose when I obtained the helmet and many simply tossed in a bag. This helmet has been professionally restored with leather cord to match the original leather. The result is a smart looking helmet that evokes another era in the mountains of Tibet.
This helmet displays very well and could easily be the centerpiece of an arms and armor collection. Only a few of these helmets have even turned up at auction in recent years, and few have matched the quality of this one. It is priced accordingly given that it was recently restored to its former glory.
Price $2,750 plus shipping
(Click images below for closer view)
Victorian Copy of 16th Century German Chainmail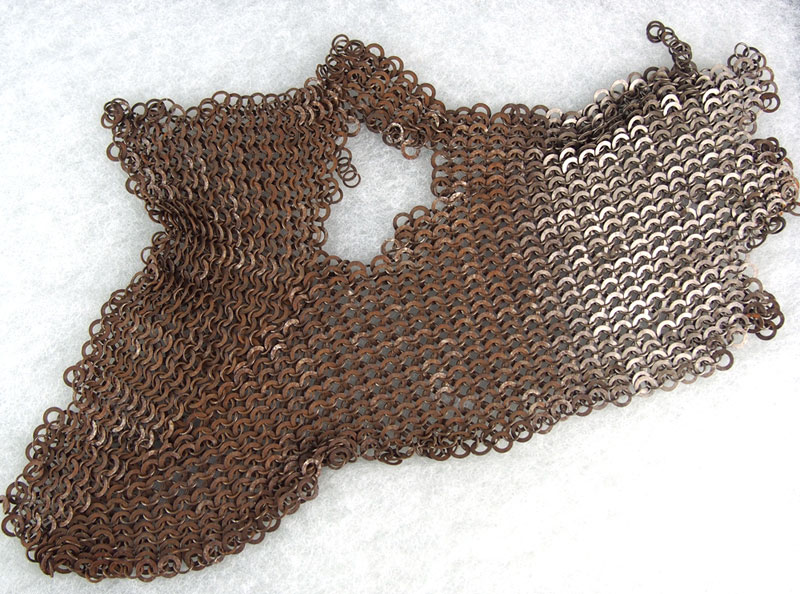 During the Victorian Era there was renewed interest in Medieval armor and weapons, and many copies and reproductions were made. This piece of chainmail, which measures about 15-inches by 7-inches, is well made. It was originally offered as "16th century German chainmail," but closer inspection suggests it is a later copy. Based on evidence and various opinions it is believed that it is a Victorian copy. It still displays well and is an affordable way to have "armor" hanging on the wall. It is being sold as a Victorian copy and offered with a display case.
Price $175 plus shipping
(Click images below for closer view)

Ethiopian Shield
Ethiopia was one of the only African nations to successfully fend off a European invasion in the 19th century – and the Ethiopian Army defeated the Italians at the Battle of Adwa in 1896. While the Ethiopian Army was likely outfitted with equipment and small arms that were on par with that of the Italians, some units still used traditional swords and shields.
This shield likely dates from the tail end of the 19th century and is of the characteristic form of shields from the Horn of Africa. It is set with brass mounts and covered in velvet. It measures 90.2 cm and is in excellent condition with a few minor tears to the velvet, and a bit of dents – whether this is from age or combat is anyone's guess. However it displays well and would be a great addition to an African small arms collection.
SOLD
(Click images below for closer view)
African War Shield – Replica From the Movie The Four Feathers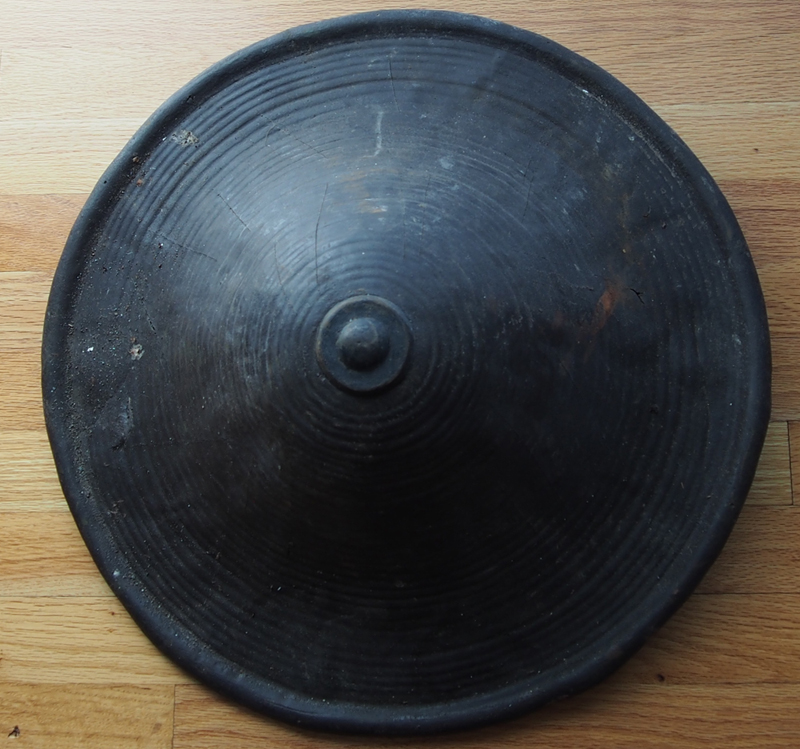 Here is a replica shield that was used in the 2002 movie production of The Four Feather. This is a very detailed copy of the shields used by the forces of the Madhi in Northern Africa in the 1880s and the Islamic extremists in the 1890s. Original shields were made of hide and the importation of shields from the region are now banned by the United States Department of the Treasury. However, this is a modern made piece that is made of fiberglass. It shows wear and age and a result it displays very well – in fact I had it on my wall for several years but recently purchased an Ethiopian/Abyssinian shield for several hundred dollars.
This is a very affordable alternative and would make a great addition to a British or other colonial collection, and is a great alternative to the expensive and now desirable African shields.
Price $100 plus shipping
(Click images below for closer view)
Late 16th Century Cabasset Helmet
The Cabasset was introduced in Italy in the 15th century and remained in use for the next 200 years. It was worn by infantry in the pike and shot formations. It is notable for its stalk-like projection on the top, which made it resemble a pear and for which is how it obtained its name.
This example likely is of northern Italian origin and was forged with a pronounced ridge to the skull while the brim is raised with a rolled edge. It has much of its original black finish and rosettes intact. This helmet does not have a liner but these were often worn over caps. This one likely dates from the late 16th century and is in excellent condition.
Price: $1,000 plus shipping

(Click images below for closer view)