Updated November 7, 2017
American Private Purchase Officer Boots
Here is what could be called a "holy grail" – a lovely pair of interwar American private purchase boots that are about a size 11! Finding larger size leather boots in this condition is almost impossible, but here is your chance to get that large size boots.
The leather is fantastic and is still nice and soft. The boots even have vintage laces – but if you do plan to wear these finding new laces should be a top priority. All in all for those who want boots for wear more than display this is absolutely the pair!
SOLD
(Click images below for closer view)

Brown Riding Boots
These boots walked into a recent show – they were technically carried but you get the point. While I don't believe these are that old – probably post World War II – and maybe not even military, these do look the part for World War I or even World War II officer's boots.
As riding boots go these are rather nice, and if you check out eBay or Etsy you'll find similar boots for a whole lot more money. So if you need a good size of boots to wear – which I think are around a men's size 9 or 9 1/2 – or want a good placeholder for a display you can't go wrong with these.
Price: $75 plus shipping
(Click images below for closer view)

Late World War II British "Jack Boots"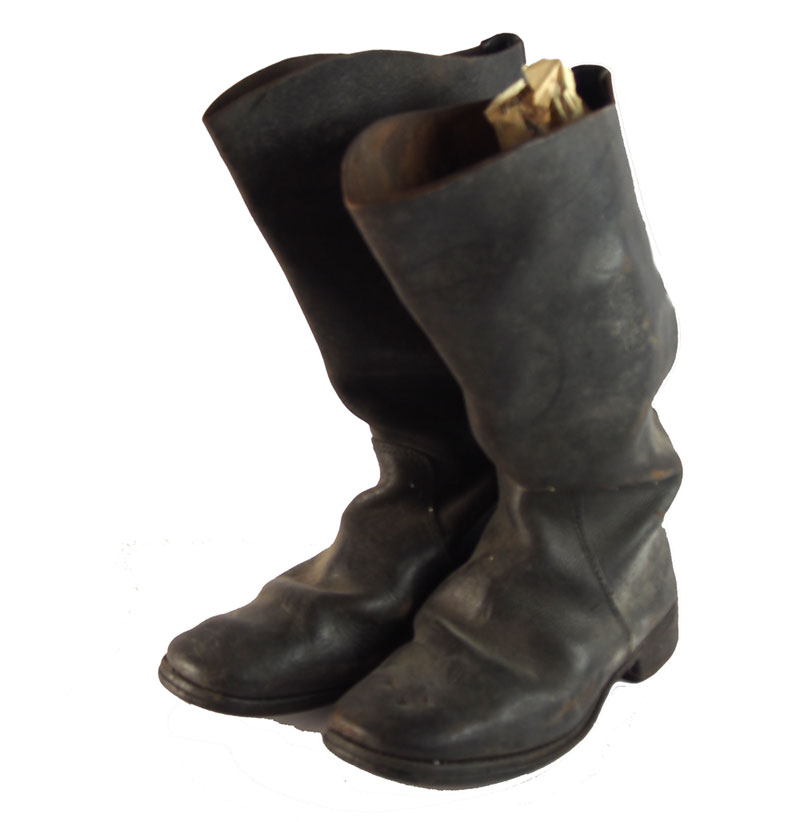 Tall leather jackboots were commonly used by German and Russian soldiers during World War II, but the same style of boots saw limited use with the British. Display riders wore these boots as did some cavalry units. These are "broad arrow" marked and dated 1945. These were made by Wevans of Leicester in the UK.
These boots are a little dry but with some polish could be cleaned up nicely. These would work for a British display, but could be an affordable alternative for German or even Russian uniform display as well.
Price: $125 plus shipping
(Click images below for closer view)
French Model 1941 Boots
The French Model 1941 boots were an update of the leather boots introduced in 1917. These featured a "derby" shape that was similar to the British ammo boots. This model is noted by the copper rivet fixed to the front part of the quarter and the vamp, as well as the hotnails and protective heal and toe taps.
These boots are in good shape but obviously the leather isn't exactly new. While these boots could be worn really these are better as a display item. While not seen in the photos there are old laces (not sure of the era) that are included. These boots seem to be around an American size 11 but I can't confirm the exact size. Still if you're putting together a French WWII display these are the best boots you're likely to find and these are reasonably priced for vintage boots of this size.
Price: $95 plus shipping
(Click images below for closer view)
French Double Buckle Boots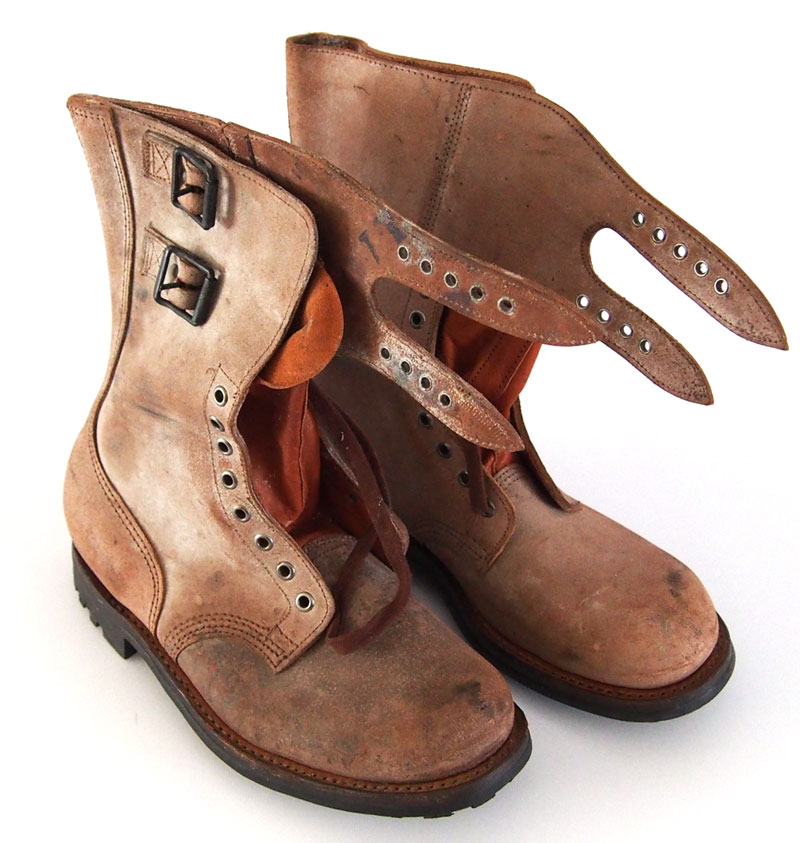 After World War II the French army and the French Foreign Legion adopted American "double buckle" style boots. These style boots were worn in the Indochina War and the Algerian War as well as in other conflicts of the Cold War era.
These boots, which likely date to the early 1960s, are in excellent condition. These include laces and inside the boots is original French boot polish! The boots apparently saw little use as the rubber soles show very little wear. These are around size 11 but as with most boots I offer I can't confirm an exact size. These would certainly complete a French military display and these are priced accordingly.
Price: $75 plus shipping
(Click images below for closer view)
Interwar USMC Boots
If you're trying to complete a "China Marine" officer display – or just an USMC officer uniform from 1910 to 1940 – you know the hardest part might be finding the right footwear. Well, look no further. Here is a fantastic pair of vintage knee high boots of the style favored by American Army and USMC officers during World War I and in the interwar era. These aren't dated, but do look to be from the 1920s or 1930s.
The boots are in excellent condition and are complete with original lacing. I made no attempt to clean them up or polish them, but it wouldn't be hard to get the few scuffs out with a little bit of "elbow grease." These are the real deal and you likely won't find a nicer pair – certainly not at this price.
Price: $175 plus shipping
(Click images below for closer view)
U.S. Officer Private Purchase Walking Out Shoes
Period shoes are often the hardest part to completing a uniform display, but if you're trying to finish off an American officer uniform I have just the pair of shoes. These are a smaller size (but everything seemed smaller back then) that are of World War I era vintage. These dress shoes from Avon Stratford were sold by Stamm's of Galesburg, Ill. and based on my research this store operated until the Great Depression.
These shoes are in very good condition for their age apart from some scuffing on the left toe. The soles show only mild wear, which suggests that these were used as dress shoes and not daily wear. However these could be displayed well with a walking out or dress uniform. I've priced these accordingly given how hard period shoes can be to find these days.
Price: $75 plus shipping
(Click images below for closer view)
U.S. Officer-Used Cavalry Boots – Named
We're not sure who exactly who was Lt. Chas M. Hurt – but he apparently sent some time in London, possibly on his way to France in World War I. This is noted on the wooden boot blocks that have his name, and were retailed by the now famous Peal & Company of London. The shop, which was actually founded in 1565, was known to be the oldest-established and most successful makers of shoes and boots in the world – until it sadly closed in the 1960s. Still a 400+ year run isn't all bad.
More importantly, it was the place where any officer who was anyone would buy their boots – so this suggests our Lt. Hurt was indeed someone of some means.
What we have here are a truly lovely pair of officer's style boots with side lacing. The condition of these boots is near excellent, especially considering the age of these. There are no tears, major scuffs and it appears these have the original heels and are complete with the spur holders near the heels.
The wooden blocks are also in excellent condition apart from the fact the original handles were removed and are missing. However, these boots display well and would certainly give any U.S. or British cavalry display the finishing touches that it needs. And to prove my prices are reasonable
Price: $250 plus shipping
(Click images below for closer view)
American World War I Canvas Leggings/Gaiters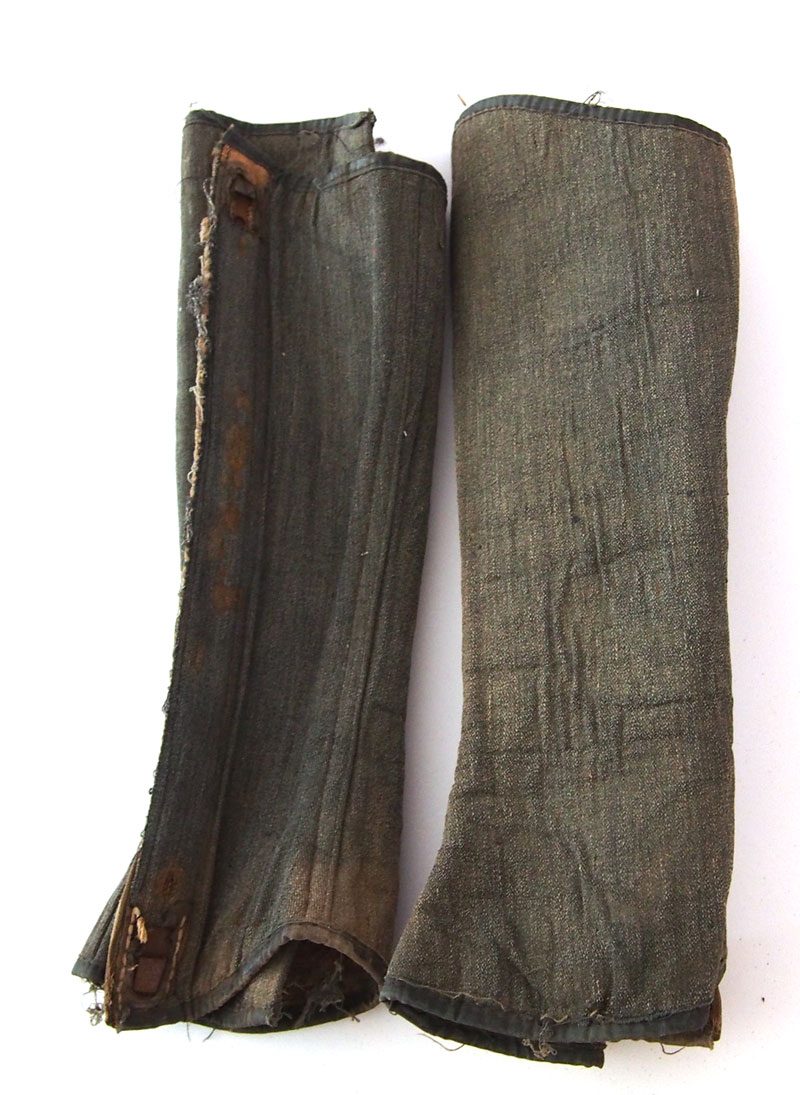 Here is a pair of World War I or interwar canvas leggings. These were likely an officer or NCO item. These show a bit of wear but would be ideal to complete a uniform display. These came out of an old collection and are the real deal.
Price: $35 plus shipping
(Click images below for closer view)

American World War I Canvas Officer Leggings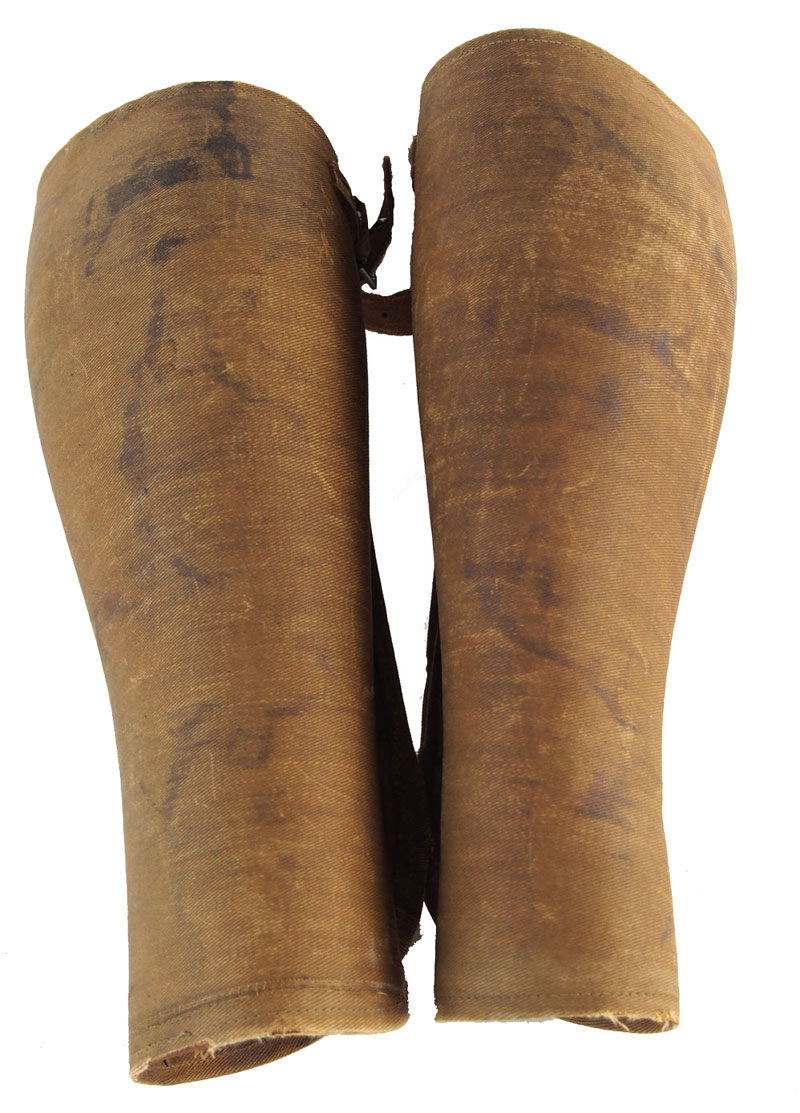 This American version of the shin protectors – sometimes called gaiters or leggings – is made of canvas and was an alternative version to the far more common leather ones. These canvas ones were only issued at the tail end of World War I and are thus fairly uncommon. This is the first set I've seen in quite some time.
These were clearly used, as there is a name written inside – Dewitt T. Brake of the Ambulance Company of Camp Lee Virginia. There is some wear with minor fraying to the edges and some scuffs but given that these are nearly 100 years old they are in excellent condition.
Price: $65 plus shipping
(Click images below for closer view)
British World War I Officer Leather "Gaiters"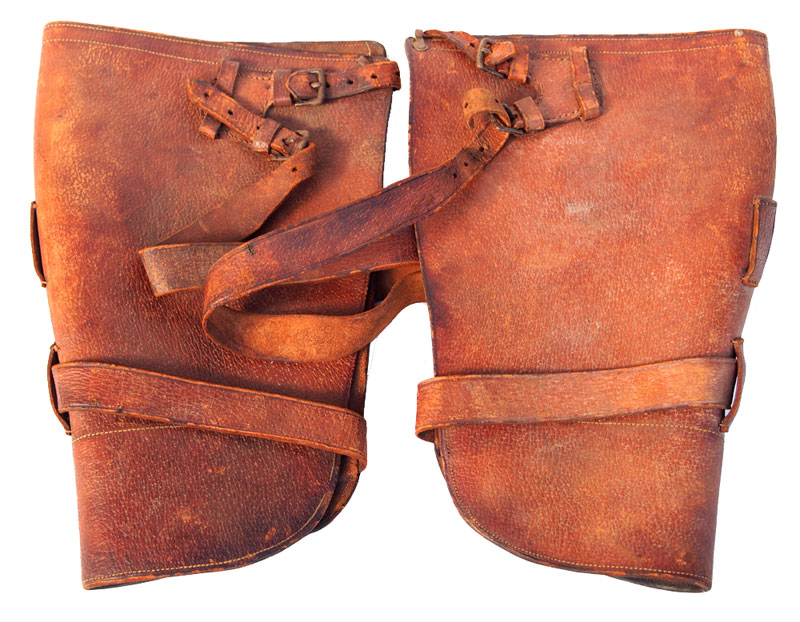 Sometimes called "leggings" or "gaiters" these shin guards were worn over ankle high shoes or short boots, and were an alternative to tall officer boots.
These were popular with British and American officers in the trenches of World War I. This pair is in good shape apart from the fact that these have been stored flat. The leather is still flexible enough that the boots could be reshaped for wear or display. These are likely 100 years old, but are free of cracks or tears.
Price: $45 plus shipping
(Click images below for closer view)
American World War I Officer Leggings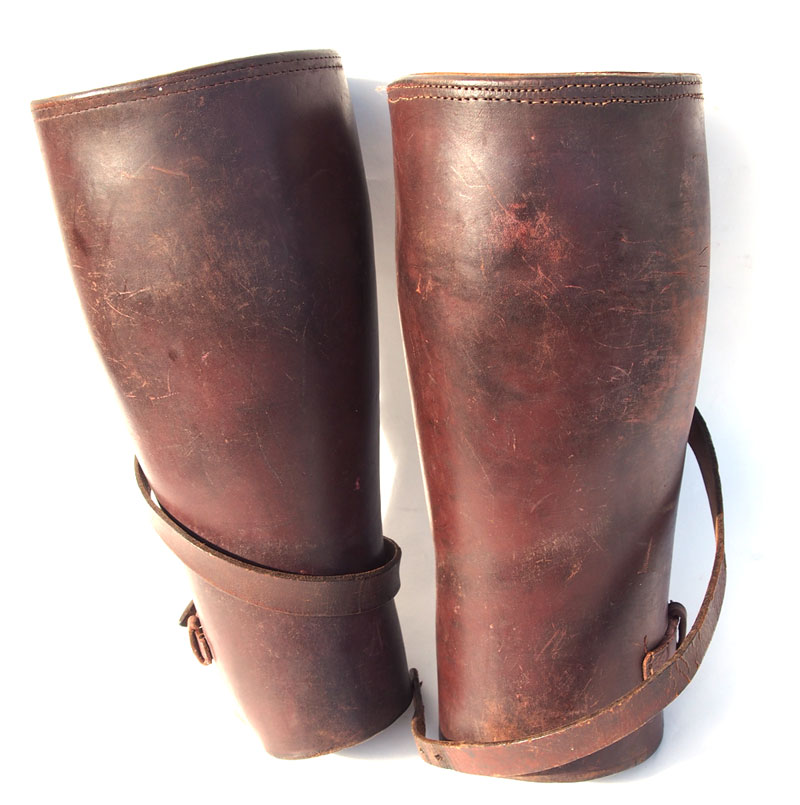 This is an American version of leather shin protectors – gaiters or leggings. This pair is in exceptionally good condition apart from some minor scratches or scuffs. These would be ideal for a World War I officer display, and these are reasonably priced.
Price: $45 plus shipping
(Click images below for closer view)