Updated January 13, 2018

1930s Era Billy Club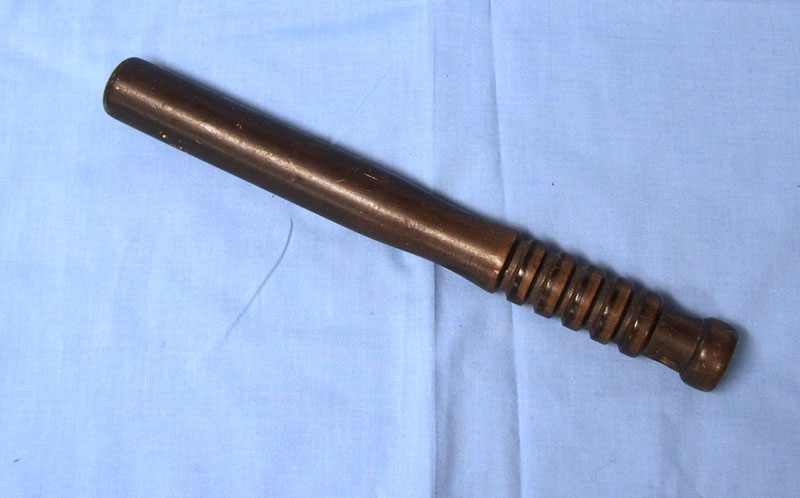 Not much to say about this one. We have hear a police – or possibly prison billy club that is likely pre-WWII era.
Price: $25 plus shipping
British Military Drum Circa 1960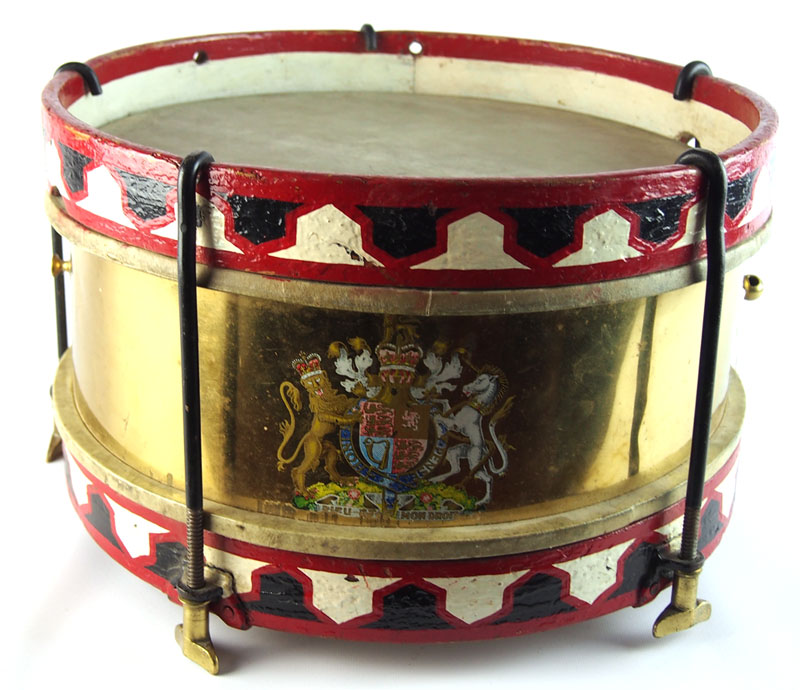 While the British were NOT the first to have military marching bands – that honor goes to the Ottomans – the Brits are likely among the most famous. Here is a former military drum likely used for parades, military tattoos and other events.
You can march to the beat of your own drum with this one. It is a little over 14 inches in diameter and about nine inches high. The drum head is in good shape as is the paint and decal featuring the royal crest with queen's crown. All in all this is fine piece that would display well.
Price: $195 plus shipping
(Click images below for closer view)
Vintage Cloisonne ChopSticks with Original Fabric Box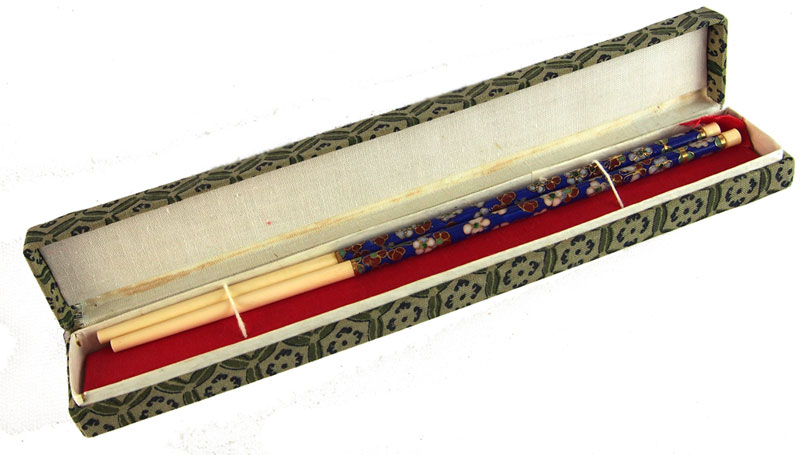 Here is an unused pair of beautiful chopsticks crafted in cobalt blue cloisonné with bone handles. They have never been used and complete with original, fabric presentation box. These chopsticks measure about 8.5″ long and they are in excellent condition. The box is also very nice with expected, age-related storage wear.
Price: $30 plus shipping
(Click images below for closer view)
Late 19th/Early 20th Century  Metropolitan Whistle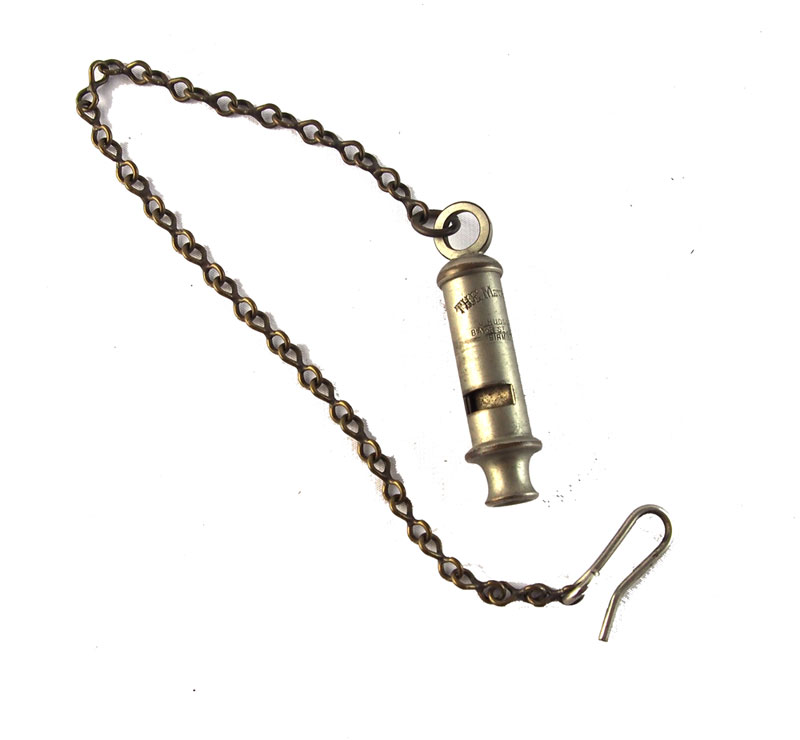 Back in a more civilized time many police officers in the UK were armed with just a Billy Club and believe it or not a whistle. These whistles were known for their high pitch and VERY loud report, so much so that these were also used by officers and NCOs in the trenches of World War I.
Offered here is a whistle that dates from the end of the 19th or early 20th century. It is the Metropolitan brand that was made in Birmingham for both the police forces and military. The chain is of the variety used by British officers and Bobbies alike, so it could be great with either sort of display. It is reasonably priced!
Price: $45 plus shipping
(Click images below for closer view)
"Sweetheart" Powder Puff Cap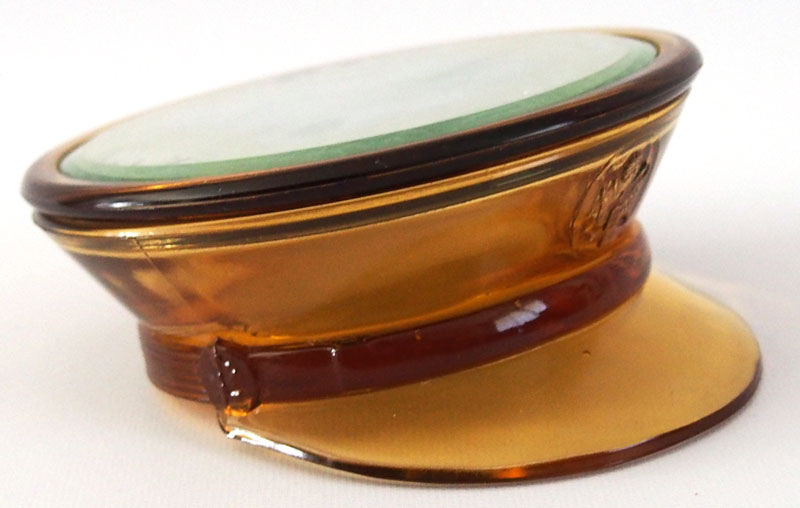 No one would dare call a veteran a powder puff, but here is a glass powder container in the shape of enlistedmen's cap. This seems to be one of those strange "sweetheart" items that soldiers could buy for their wife or girlfriend. It is made of glass and in excellent condition apart from the mirror, which has seen better days.
This is a unique item that might just say, "we've seen it all."
Price: $30 plus shipping
(Click images below for closer view)
King's African Rifles Decanter With Original Box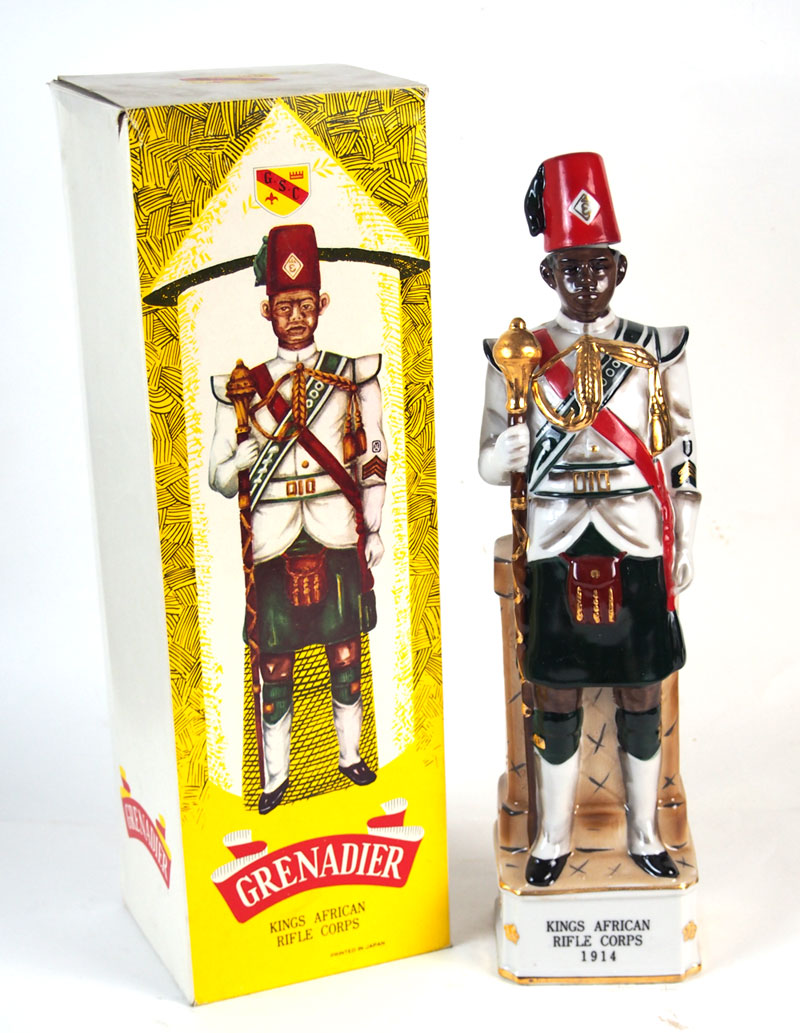 The King's African Rifles were considered one of Great Britain's elite colonial units so it was fitting that a liquor company would "honor" the unit with a decanter. Here is a 1970 vintage bottle in excellent condition with the extremely rare original box. This KAR decanter would make a nice addition to an African weapons display, or it could be filled with sand and used as a book end!
It is free of scratches and has only minor wear. The paint is vibrant and the box is in very good condition for being more than 40 years old.
Price: $40 plus shipping
(Click images below for closer view)
Bust of Augustus Caesar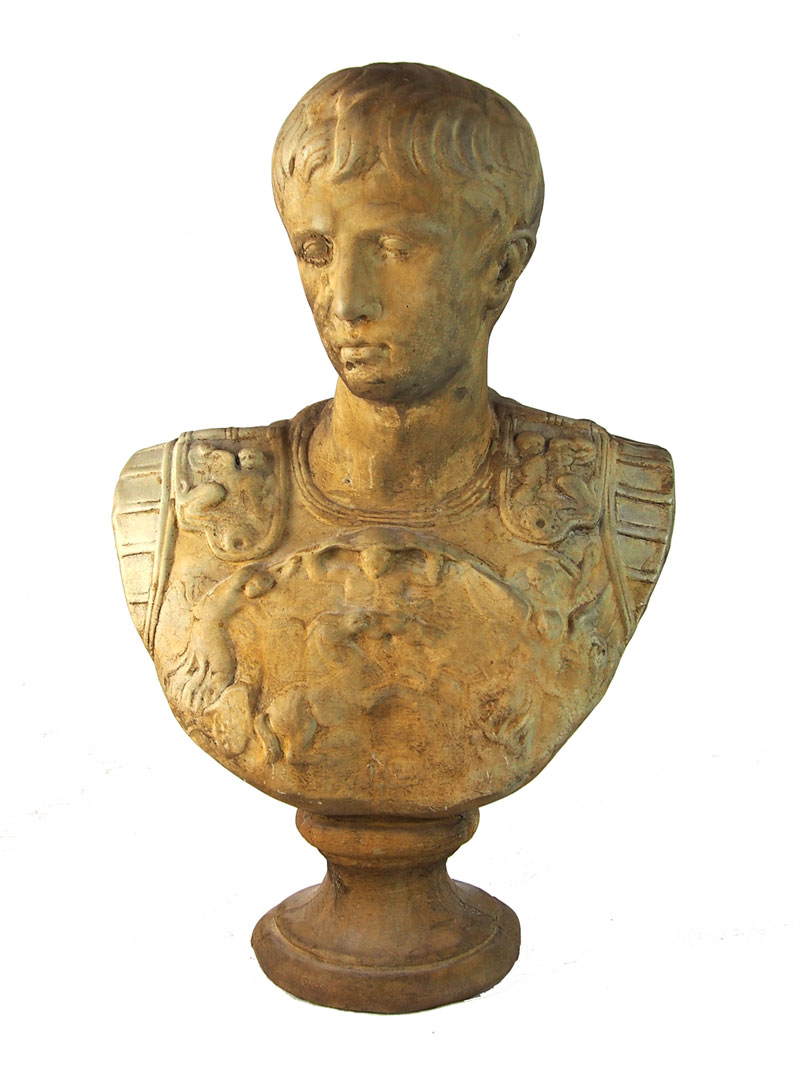 The glory that was Rome. The Romans were big on statues but you don't need to go to Rome to have your own quality bust of Caesar – that would be Augustus Caesar, the first "First Citizen" as in Emperor, not his uncle Julius.
This one is based on the 1st century, Braccio Nuovo, which is housed in the Vatican Museum. It is based on that one that was discovered at the villa of Liva at the Prima Porta, near Rome, in 1863. This lifesize bust features nice details including his bas-relief breastplate armor. This statue shows some wear, which actually gives it some character as if it was brought back from a ruin somewhere.
It is made of heavy concrete and as such this weighs a bit – in excess of 50 pounds. But unlike cheap examples this one is suited for indoor and outdoor use. Such is the glory.
Price $350 plus shipping
(Click images below for closer view)
Vintage Metropolitan Police Helmet Bell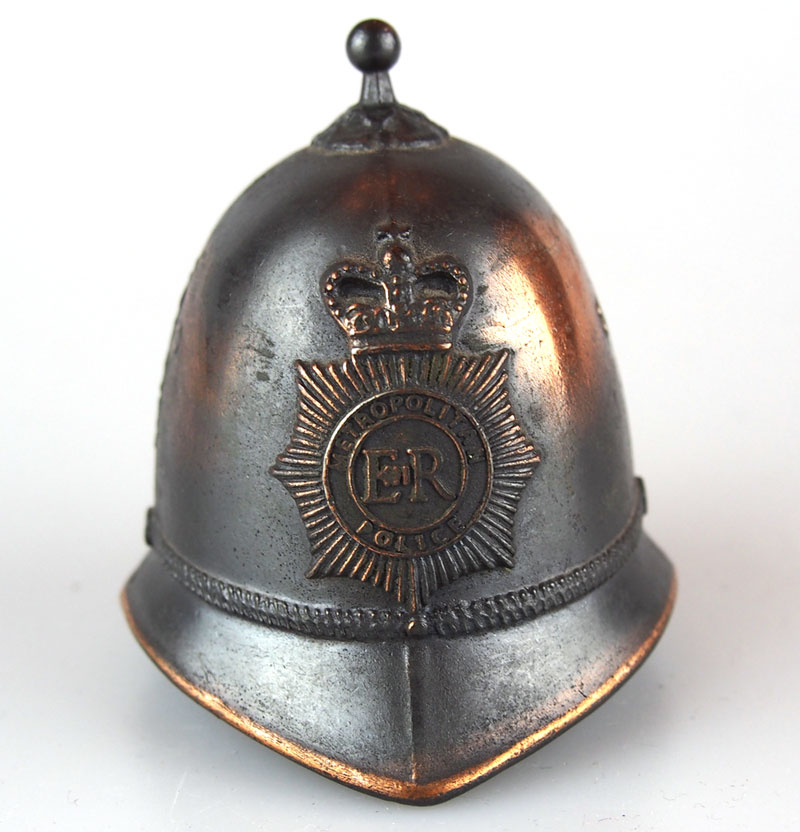 Bade in London, England by H. Seener this is a bell in the shape of the classic London policeman's "Bobby Helmet." It is in excellent condition and very accurately captures the details of the helmet from the front badge to the side vents. It could be a great way to ring in the holidays and more.
This one likely dates from the 1960s but could be newer. It is reasonably priced.
Price $25 plus shipping
(Click images below for closer view)
Loyal Regiment (North Lancashire) Miniature Swagger Stick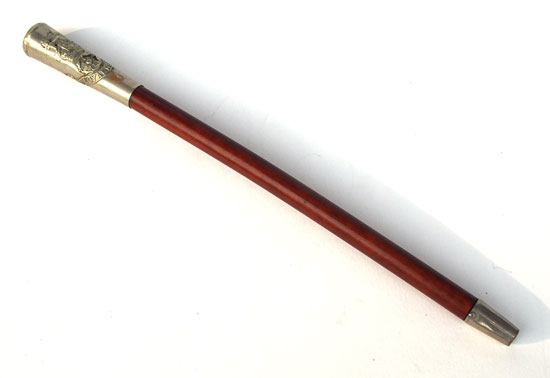 Swagger sticks were normally carried by seniors NCOs and officers and used to direct troops. A popular "gift" to an officer who found himself in a command position at a desk was a miniature swagger stick – perhaps to order around the paper work. This example likely dates from the interwar period.
It is made of the same hard wood that one would see in full-length swagger sticks and it features a soft metal silver finished cap and tip. The swagger stick measure 8 3/4-inches in length and the cap features the regimental insignia of the Loyal Regiment (North Lancashire), which was a line infantry regiment from 1881 to 1970. The insignia bears a "King's Crown" which ensures the stick is pre-1952 in origin, but given that such things weren't widely used post-WWII it is more likely it is from before WWII – and possibly earlier.
The Loyals – as the regiment was known – was a true fighting regiment and it saw action in the Boer War (1899-1902), the First World War, it served in Ireland during the Irish Civil War of the 1920s and saw much action in WWII. During the Boer War the unit was one that defended Kimberly and during World War I units fought at the Somme, Gallipoli and even in the liberation of Jerusalem. Units of the Loyals were at Dunkirk, North Africa, Singapore, Anzio, the Gothic Line and in Western Europe.
The mini-swagger stick is in excellent condition and would make a great addition to any collection of "Loyals" militaria, or just as a very interesting conversation piece about a true fighting regiment.
Price $50 plus shipping
(Click images below for closer view)
Copper Plate/Engraving From the 1820 Book on Costumes of the World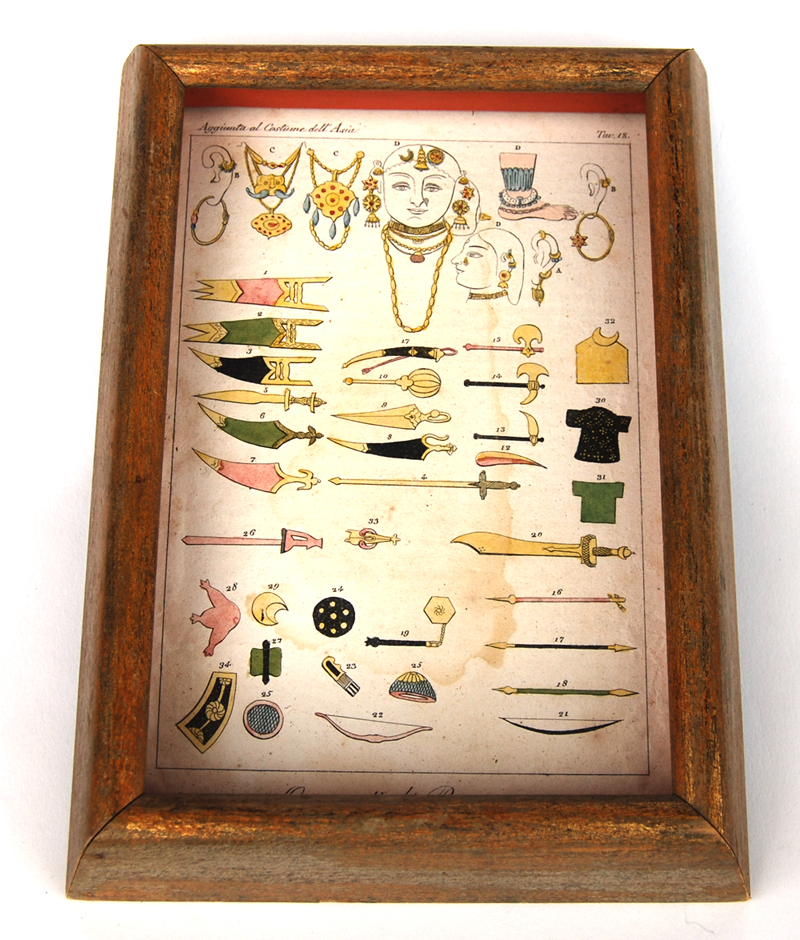 This is something you don't often see. Here is a color plate – either from a copper plate or other engraving from an old book. This plate comes from a book by Giulio Ferrario, who wrote numerous books – mostly in Italian – on costumes or dress of indigenous people of the world
This plate is from the book Aggiunte E Rettificazioni: Il costume antico e moderno o storia del governo, … di tutti i popoli, published in 1820. Translated it means "The costume ancient and modern history or the government … of all peoples, ancient and modern." The book was published in Milan, Tipogr. of ed. 1815-1834. This particular print was apparently framed by Paul B. Victorius in Charlottesville, VA in 1905. Victorius is known in the art community as an antiques collector and is reported to have sold many prints that are 300 years or older.
This particular framed engraving is of Indian small arms of the 17th to 19th century. It is in excellent shape although the color has faded over the past 195 years! Still for this engraving to exist is impressive and moreover in that it is in a frame that is 110 years old! A truly unique piece that would complement an Indian sword or weapons collection.
Price $25 plus shipping
(Click images below for closer view)
Fort Knox Pillow Cover – Cold War Vintage

There was a time when soldiers were able to buy their wives items that could only be described as a bit "questionable" by today's standards? What wife wouldn't want to decorate the couch with a pillow cover adorned with a loving poem and a tank blasting away?
This came out of the estate of a veteran and we can only assume his wife didn't care for it as it appears unused if a bit wrinkled. I've left it just as I found it.
This is a throwback to another time, and one veterans from World War II to the 1970s likely recall. These weren't exactly cheap back in the day, but few have survived and it could make a nice display for anyone who served at Fort Knox in the Cold War. It is priced quite reasonably.
Price $25 plus shipping
(Click images below for closer view)
Afghan Prayer Rug – From Soviet Occupation Era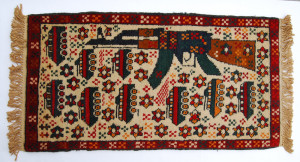 Hand spun Baluch rugs have been a staple of the Baluchi people of south west Afghanistan, eastern Pakistan and even south eastern Iran, for centuries. These rugs typically featured themes based on history and local customs.
After the Soviet invasion of Afghanistan in 1979 a new theme emerged – one that included Soviet small arms and vehicles. This example, which dates to the late 1980s and features hand spun wool colored with natural vegetable dyes, features the icon image of an AK-47 (Kalashnikov assault rifle) along with Soviet armored vehicles.
This "war rug" is the size of a prayer rug and came back to the United States via a soldier who served "in the sandbox" during the U.S. led invasion to oust the Taliban. The war/prayer rug is in excellent condition and ready for display or the daily call to prayer.
 Price $300 plus shipping
(Click images below for closer view)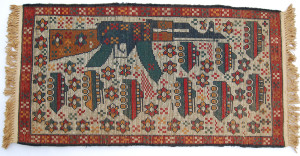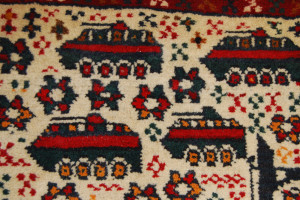 Queen Elizabeth II Silver Jubilee Plate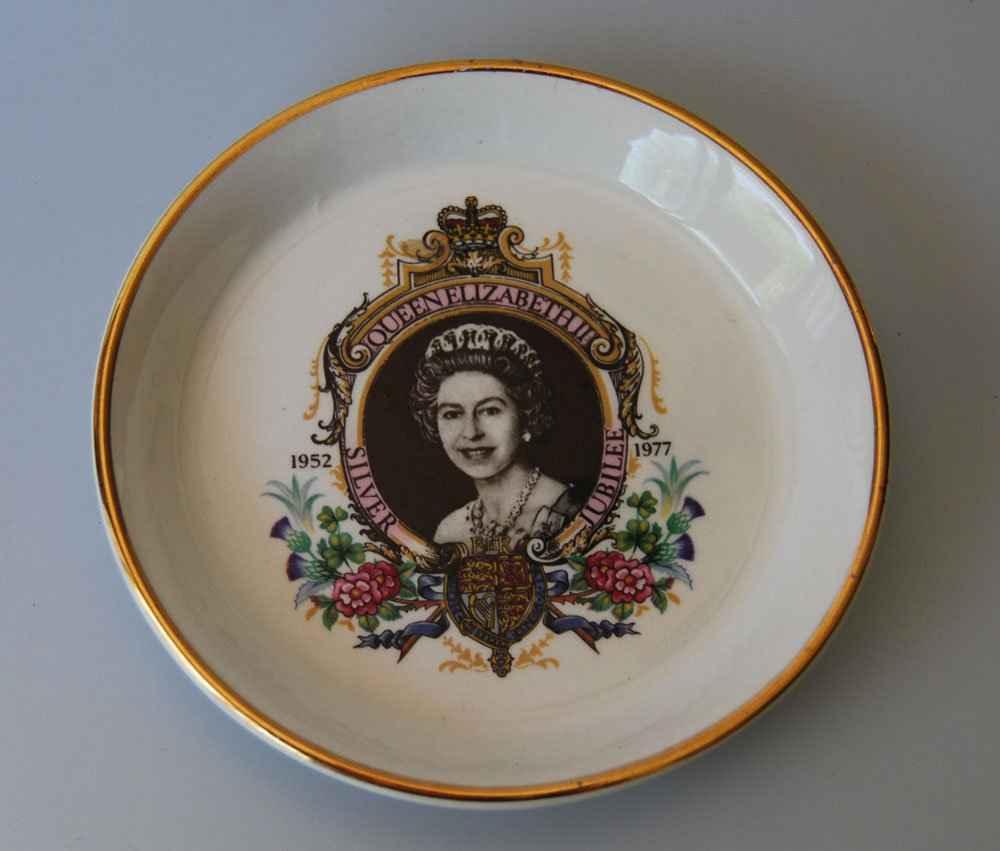 A hand-crafted, English made plate from Lord Nelson Pottery (established 1758). This commemorative plate is from the 1977 Silver Jubilee (1952-1977) for Queen Elizabeth II. A nifty piece that is now more than 35 years old!
Price $20 plus shipping
(Click images below for closer view)