Updated January 13, 2018

Cold War Era Soviet Tanker Helmet
The Soviet tanker helmets were designed in 1935 and used to great success during the Second World War. These were later upgraded in the 1950s and again in the 1970s when the number of protective pads on the top increased from three to four.These were modified again the late 1980s when the number of bumper pads increased to six.
Thus example is from the 1970s and was apparently used in Afghanistan as it was brought back after the United States invasion in 2001. These helmets had been left behind after Soviet forces departed in 1989. It is a real deal helmet that likely did see use sometime between the 1979 invasion and the withdrawal of Soviet forces in 1989.
The condition is very good, and it is reasonably priced.
Price: $75 plus shipping

(Click images below for closer view)

Canadian Air-Raids Precautions Service (ARP) Helmet – WWII Era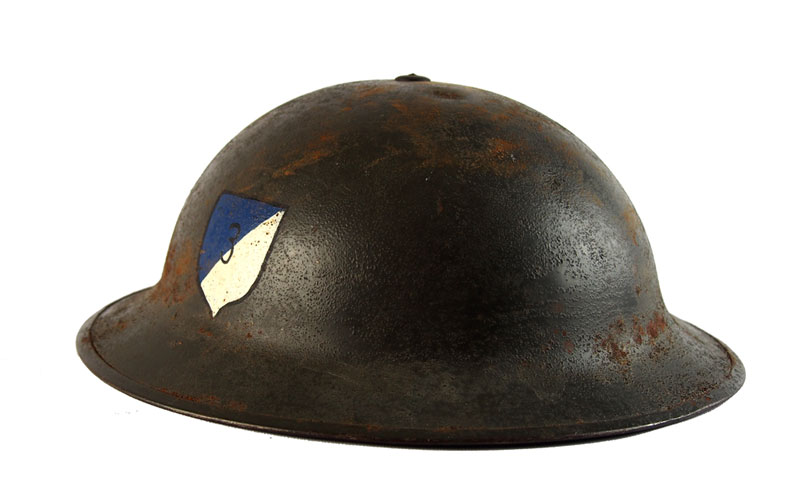 Here is one of the rarer variations of the British MkII steel helmet of World War II. These mild steel helmets were produced in 1942 for the Department of Pensions and Health for use by the Air-Raids Precautions Service (ARP). These have their lugs,welded,not riveted to the rim. On 155,000 mild steel helmets were produced and most were melted down after the war. It is marked on the inside "G.S.W." and "D P & H" and was made by the General Steel Wares of Toronto (G.S.W.).
It is complete with the original elastic chinstrap and oil cloth liner. It features the hand painted Canadian unit insignia to the side indicating that it was used by a specialty Air Precautions Service member. The helmet has some surface rust and a slight dent, but it looks otherwise 100 percent legit. For those who collect all things Canadian this is a rare one indeed!
Price: $175 plus shipping

(Click images below for closer view)
German Cold War Era GSG-9 Helmet
Following the tragic massacre of Israeli athletes at the 1972 Munich Olympics the West German government ordered that a special forces unit be created to address terrorist threats. However, the West German military was barred from creating such an elite force so instead the GSG-9 were created as part of the West German Police.
These men were equipped with military weapons, uniforms and issued with helmets based on the iconic German paratrooper helmets of World War II.
Here is an example, likely from the 1980s. It is complete with liner and chinstraps and appears to have been used based on the slight stains to the leather liner. However the liner is in excellent condition as is the helmet. There are only minor scuffs to the shell and the paint is otherwise fully intact. The aluminum bolts show some wear and this may have been from the fitting of the chinstrap by its former owner.
While never common these helmets are almost impossible to find today.
ON HOLD

(Click images below for closer view)
U.S. Army Cold War Era "Tanker" Test Helmet
Consider this the "forgotten" tanker helmet. This "football" style helmet is of the type that were purchased by the U.S. Army units and tested for armored vehicle use. This example shows minimal wear but has some scuffs and dings. It is stamped "Made in USA" and "7" – the latter indicating the size.
This helmet likely dates to the late 1940s or early 1950s. It is a great example of a rare piece and would be a great addition to any tank helmet collection! It is reasonably priced.
Price: $75 plus shipping

(Click images below for closer view)
U.S. Army Cold War Era "Tanker" Test Helmet with Radio Equipment
Here is another "football" style tanker helmet, this one has been fitted with radio equipment. It was likely used as a prototype or test example as it shows considerable wear. The rubber coating to the radio wires is well worn but otherwise intact.
This helmet dates to the late 1940s and is another extremely rare one. It is priced accordingly.
Price: $75 plus shipping

(Click images below for closer view)
Belgian Congo War Era Dispatch Rider Helmet
After World War II the Belgian Army utilized motorcycle dispatch riders and instead of utilizing a steel helmet opted for a heavy leather helmet. Here is one of those examples that was produced from the late 1940s and early 1950s. It is dated 1952.
This would be a nice addition for those looking for a Congo War era helmet, or just someone that likes a post-WWII "mod" style motorcycle helmet.
Price: $75 plus shipping

(Click images below for closer view)
Cold War Era Yugoslavian Paratrooper Helmet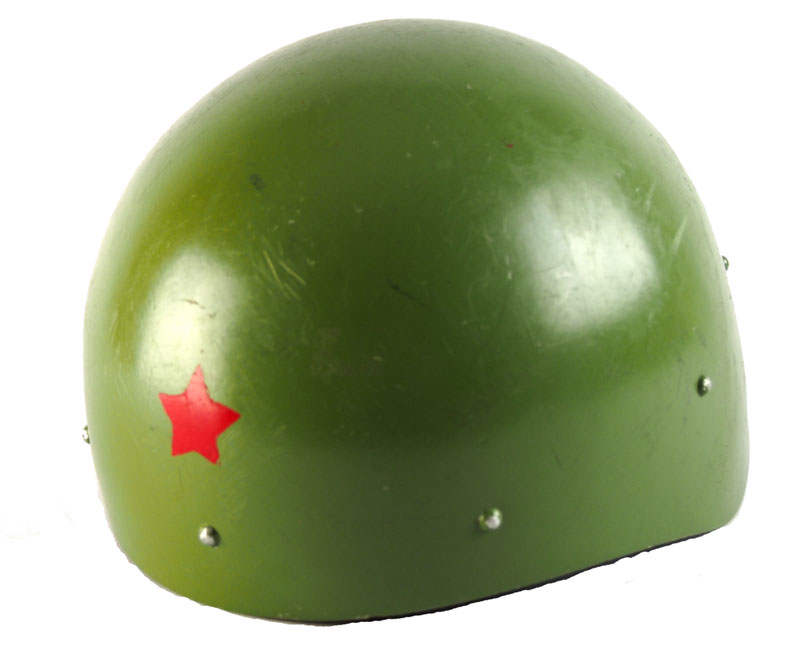 This is a fairly uncommon helmet – made by a Slovenian company in the 1960s and 1970s these fiberglass helmets were the jump helmets for Yugoslavian Army paratroopers. The pattern is known as the PC99, and was used by the 36th Airborne Brigade based in Nis.
These helmets were later used by various units during the Yugoslavian Civil War. It features a painted red star on the front, which dates it to the Yugoslavian period before the breakup of the Balkan nation.
This example shows some wear to the liner and exterior, and it is missing the chincup portion of the chinstrap. There are some minor scuffs and some chipping of the paint in one spot, but otherwise this helmet displays well. It is a nice example of a helmet that is rarely encountered today. It is priced accordingly.
Price: $125 plus shipping

(Click images below for closer view)
American Model 1917 Steel Helmet
To say that the American Army wasn't entirely prepared for World War I is a major understatement, and when the United States military arrived in France it didn't have its own helmet. Instead the U.S. adopted the British MkI, which was made under contract in the U.S. as the Model 1917.
Here is a nice example, size 7, that is complete with most of its paint intact and with its original liner. Unfortunately the chin strap is broken but all in all this one displays quite well. It is also reasonably priced.
Price: $120 plus shipping

(Click images below for closer view)
Irish MkII "Eastern Command" Helmet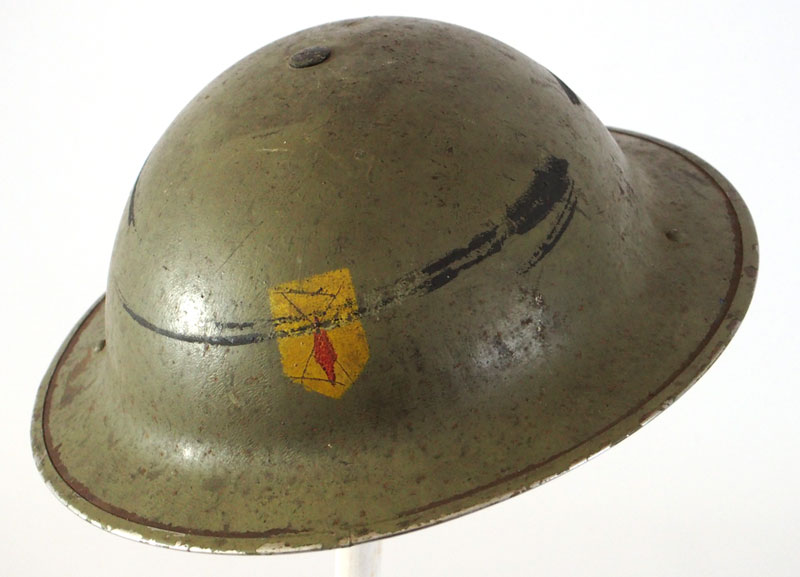 During World War II the Irish Republic was officially neutral but still took on a more British appearance with equipment and battledress and most certainly with helmets. This is a World War II era – known to the Irish as "The Emergency" – British MkII steel helmet that was used by the Irish Army. It features the stencil for the Eastern Command, and these remained in use only briefly after the war so there is little doubt that this is an honest WWII era Irish helmet.
The black "band" around the helmet is from another helmet being stored on top of it and could likely be cleaned up. The helmet is missing the chinstrap and the liner is a bit dry. There is some mild surface rust inside but otherwise this is a really nice example of helmet that isn't encountered all too often. It is reasonably priced.
Price: $150 plus shipping

(Click images below for closer view)
French Type 403-M3 Flight Helmet
Based on the U.S.-made H-4 flight helmet by Gentex, the French 403-M3 helmets were made by Gentex subsidiary SOCAPEX in the 1950s/1960s. The 403-M3 was designed directly from the American H-4 flight helmet (shared technology agreement). The shell is made from hardened fiber, and this example is in excellent – likely unissued – condition. It shows some minor storage wear but displays very nicely.
This particular example comes with the original box from the 1960s. The box isn't in mint condition, but it is a nice thing that very helmet collectors would have in their collection. This helmet with box is reasonably priced.
Price: $75 plus shipping

(Click images below for closer view)