Updated September 18, 2017

Royal Canadian Regiment Tunic, Helmet and Gaiters
The Royal Canadian Regiment took part in the 1943 invasion of Sicily and was issued with tropical equipment. Here is a nice grouping of items that appear to be correct to the period with tunic, MkII Canadian-made British helmet and tropical gaiters.
This includes a Canadian pattern tropical tunic that was worn by other ranks and NCOs. While not widely used in the European Theater there is ample evidence including examples at the RCR Museum in London, Ontario that the RCR did wear this pattern at least in the early stages of the campaign in Italy.
The tunic is complete with Canada Maple Leaf buttons, and features shoulder flashes to the RCR on each side. The flashes appear period and neither the thread nor the actual flashes glows under a black light. The tunic is lightly worn so it is possible that this uniform was issued for the campaign but soon replaced – which could account for the overall excellent condition of the tunic and flashes. The tunic is dated 1943 and has a size stamp "35-31 Size 8″
The Canadian made MkII helmet has the sandy brown paint that was widely used in Sicily and Italy. It features a khaki canvas chinstrap that appears to have had a field modification or repair to the chinstrap loops. The helmet has some scuffs and a bit more wear than the tunic, but it is possible the helmet was a reissue or was worn longer than the tropical tunic. Either way it goes well with the tunic.
Finally, this grouping includes a set of Canadian gaiters, which were worn over the ankle high boots. These are also in the wartime khaki that was worn in the Sicily and Italian Campaign.
All in all this is a very nice tropical display. Find a pair of pants and some WWII web gear and you'd have a complete uniform display.
Price $350 plus shipping
(Click images below for closer view)
Scots Guard Pattern 1949 Battledress
After World War II several changes were made to the battledress uniforms. These included the addition of broad lapels added to the Battle Dress Blouse, and giving it an open-collar design so that officers and other ranks wore it with collared shirt and tie.
Here is an excellent example of this style of uniform to a captain in the Scots Guards. It is dated 1953 and is a size 12. The jacket is in overall excellent condition with no nips or moth holes. The Scots Guards flash and rank pips appear to be tailor sewn and are among the most professional looking I've seen. This is just a lovely jacket and it is reasonably priced.
Price $75 plus shipping
(Click images below for closer view)

American OG-107 Cotton Sateen Utility Uniform – 1st Cavalry Division Vietnam War Era
Here is a very nice Vietnam War Era OG-107 utility uniform, as noted by the full-color nametapes and 1st Cavalry patch. Apparently PFC Newsome was a larger man as noted by the size of this uniform. The jacket is an 18×35 while the pants are a 44×31. The pants show a little less wear than the jacket but based on the size and cut these certainly came from the same owner.
This a very nice OG-107 uniform and it appears to be of the Type III variety, which would date it to post-1964 but it is still the type worn early in the Vietnam conflict. The 1st Cavalry patch, namestapes and rank insignia all appear correct to the period. It is reasonably priced.
Price $75 plus shipping
(Click images below for closer view)
French Foreign Legion Uniform Grouping

It used to be that the old school army/navy military surplus stores used to get cool stuff like this, but the vast caches of old military clothing have dried up – or more like been worn out. Recently I came across a grouping of some early 1960s vintage French military clothing and this included three French pair of 1947/50 pattern battledress trousers and three summer walking out long sleeve shirts.
The shirts are sized 37, 37 and 38. All three are in good condition with a few stains from long term storage. Perhaps a good washing could take care of the dirt and stains on these shirts, but these still display quite well. The pants are all in excellent condition and were lightly worn if worn at all. The pants aren't marked for size but by my estimate would be about 32/34 so probably snug for many people today but those thinner folks out there these would be great khaki pants. I've priced this grouping reasonably – less than $10 an item.
Price $50 plus shipping
(Click images below for closer view)
French Algerian War Era Blue Fatigue Shirt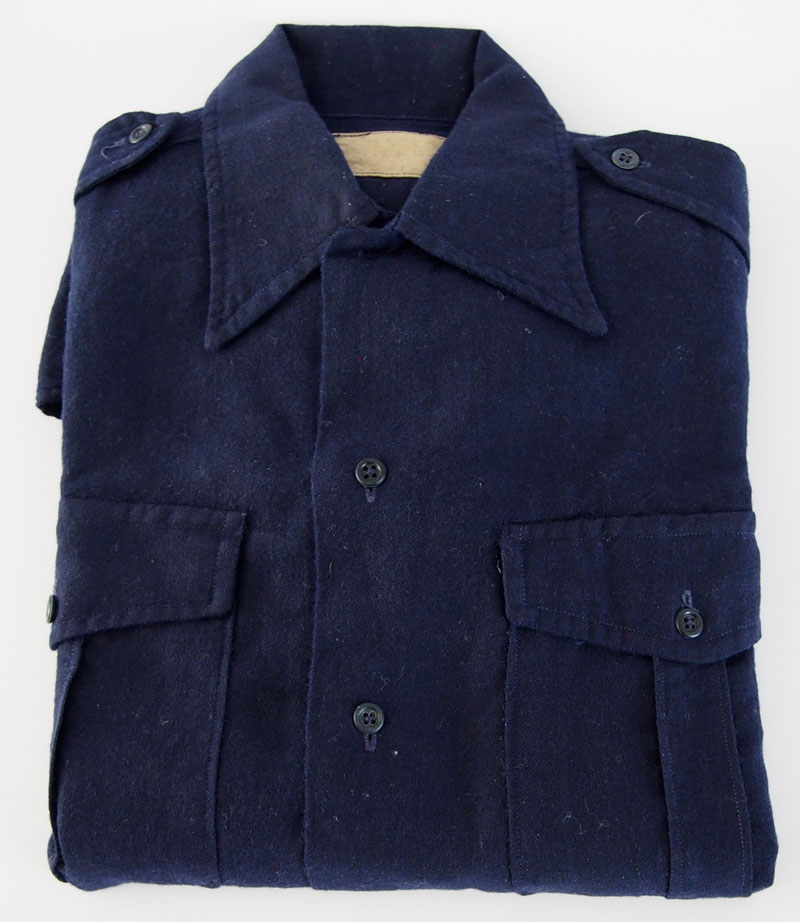 Blue has remained the de facto color of the French military for 200 years, and it was common when not in combat for French soldiers to wear shirts of that color. Offered here is an early 1960s example from the Algerian War era. It likely saw little use but enough that the owner sewed on a rank chevron. This is affordably priced.
Price $30 plus shipping
(Click images below for closer view)
British Early Cold War Era Pattern 47 Battle Dress to a Staff Officer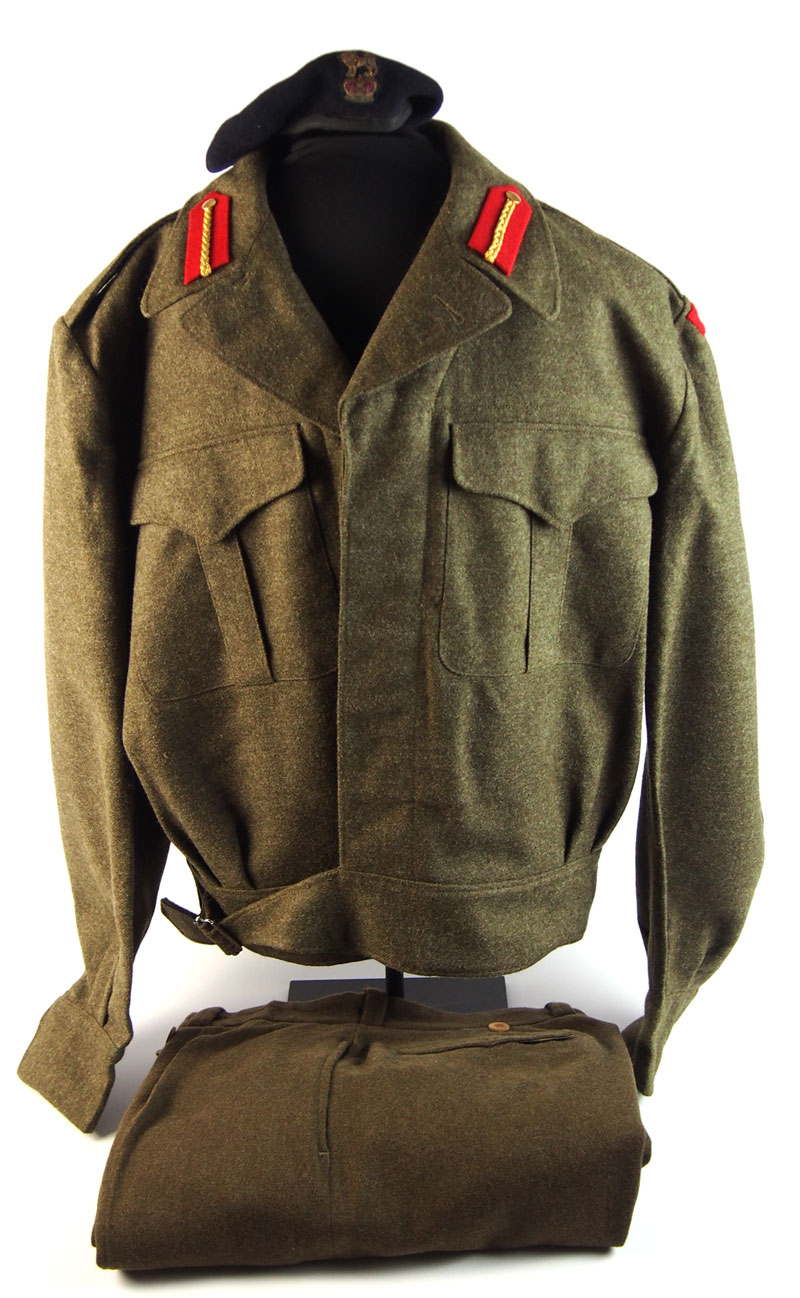 In the field staff officers in the British Army wear the battle dress uniform, and offered here is a unique piece that came out of an old collection – it is a staff officer's Pattern 47 battle dress to the Welch Regiment complete with the officer's original beret. This was likely to an aid to a general, and could have been used possibly when the regiment was deployed to Cyprus during its peace keep duties from October 1957 to December 1958. After that it was stationed in Benghazi before taking up guard duties at Spandau Prison, where its duties including guarding Rudolf Hess.
The tunic and trousers are in excellent condition and may have been the officer's "extra pair" as these show little wear. The beret shows more wear, including a few small moth holes, but that is expected as it would have likely been worn daily and is almost 60 years old! All in all this is a neat little grouping from an officer who saw some interesting things in the early Cold War years.
Price $195 plus shipping
(Click images below for closer view)
British Falkland War Era Paratrooper Denison Smock
The Falkland War could be called the last colonial war – as British forces fought with Argentina over the distant Falkland Islands. It turned out to be a rather one-sided affair and the British showed that the Lion of Europe still had some serious claws.
Offered here is a tunic that was likely used in that conflict. It is of the right vintage and shows some wear. While there is some fading to the service label and a couple of period repairs to some minor rips, this Denison smock is in overall excellent condition. The camouflage pattern differs from the World War II style, but the cut of the smock is very similar. this shows that what worked at D-Day and Arnhem would still work during the rule of the "Iron Lady" in 1982!
This would make an excellent addition to a Cold War or Falkland War display of British land power! It is priced reasonably.
SOLD
(Click images below for closer view)


U.S. Army 1910 Pattern Summer Tunic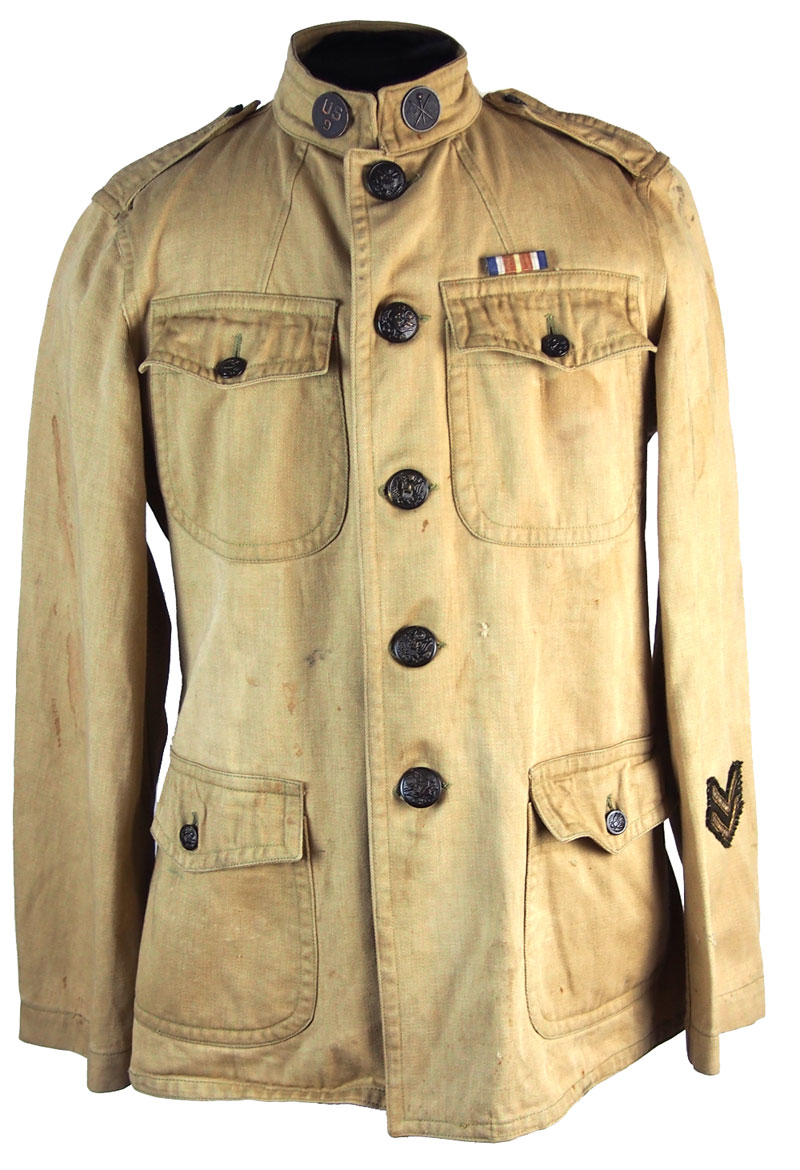 With experience in Cuba and the Philippines the U.S. Army adopted a "summer" cotton tunic in khaki. This four pocket service uniform is sometimes referred to as any combination of 1910, 1912, 1917 an 1917. These were only used in limited numbers in France in the summer of 1918, and most Doughboys suffered in the summer heat with the wool version. This cotton version is the far rarer version, and this example likely saw some service somewhere, based on the fact that it features two gold chevrons for overseas war service, and has a veteran of a foreign war ribbon (VFW). It features original World War I era buttons and collar devices to the signal corp.
The tunic does have a number of stains and a small hole to the rear of the neck. Despite this it is in otherwise very good condition and it displays quite well for a service uniform that is more than 100 years old.
SOLD
(Click images below for closer view)
Belgian Airborne/Paratroop Bust Jacket – Dated 1954
One of the now largely "forgotten" wars of the 20th century was the struggle in the Congo Crisis, which lasted from 1960 until 1965. The war began almost immediately after the Congo became independent from Belgium, and lasted until Joseph-Désiré Mobutu was able to take power. This was both a civil war for struggle for the Congo, as well as a proxy conflict that was part of the larger Cold War.
Among the belligerents was Belgium, which sent troops first to support the factions of Katanga and South Kasai, and later supported the Democratic Republic of the Congo. These troops were outfitted in the beaver tail bush jackets, which featured the Belgian "Denisson" brush stroke camouflage pattern.
This example is in excellent condition apart from a couple of stitched repairs and one button snap is missing (see photos). It is a size 42/54 and is dated 1954. This is the real deal, not a modern replica.
SOLD
(Click images below for closer view)
Soviet Cold War Era Armor Unit Tunic
Here is a late Cold War (likely 1980s era) tunic to a Soviet senior lieutenant in an armored unit. The tunic appears to be unissued, but has Soviet stamps. It features three stars each shoulder strap, along with armor designation on the straps and over the breast pocket. As with other Soviet tunics of this era the left breast pocket is designed to hold a small pocket pistol.
The tunic is in excellent condition with no stains, rips or tears. It is ready to be displayed and is a nice larger size that displays well.
SOLD
(Click images below for closer view)
American 1902 Pattern Service Tunic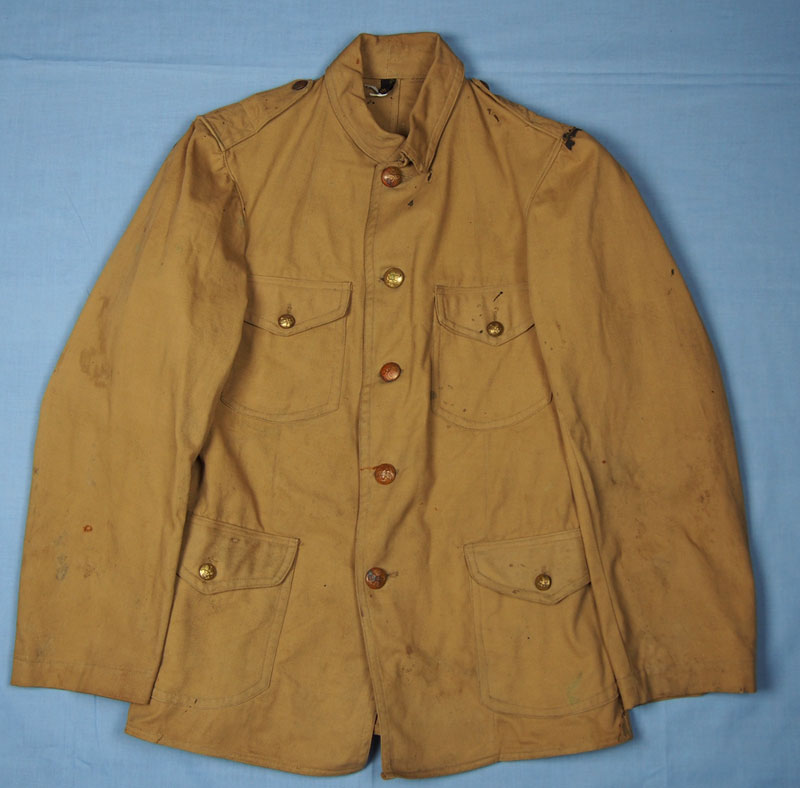 After the experiences of the Spanish-American War in 1902, the Army introduced a new set of uniform regulations that marked the beginning of a new era for all branches of its service. This new service blouse for enlisted men featured a rollover collar and pointed cuffs.
For summer and tropical use this included a cotton version in khaki. Offered here is an example of this 1902 pattern khaki tunic. There are some condition issues notably some staining, but it is free of any rips and tears. It actually looks very much like an honest tunic with "been there" wear. It is complete with original brass buttons. Given that it is a small size and that the condition isn't top shelf it is priced accordingly.
Price: $225 plus shipping
(Click images below for closer view)
Soviet Cold War Era Summer Tunic and "Afghanka" Cap – Soviet Artillery
This is a late Cold War Soviet summer tunic/fatigue jacket, which first appeared in 1974 edition of the uniform regulations published by the Soviet Ministry of Defense. It was issued for use in the Soviet Union during the summer months and used in Afghanistan. The jacket has two internal pockets with original era buttons, and iIt features Soviet Artillery shoulder boards that are pinned in – troops were expected to sew or pin these in, which shows one of the reasons why Communism just doesn't work! This jacket also features ties on the inside to hold it down to the pants, again proof of the failings of communism. Two medals of 1970s/80s vintage are pinned to the jacket, suggesting its owner did something – maybe just jogging or fitness!
The tunic, which is dated 1973, comes with the summer "Afghanka" cap, which was widely used in Afghanistan. This hat shouldn't be confused with the latter "Panama" style cap that featured buttons to allow the sides to be rolled up. The cap isn't dated, but is likely late 1970s or early 1980s.
Together the tunic and Afghanka would make an excellent Cold War/Soviet Invasion of Afghanistan display, and it offered pretty cheap as well!
SOLD
(Click images below for closer view)