Updated November 7, 2017

French Foreign Legion Gulf War Veteran Summer Service Uniform
Here is another great piece of "plunder," a French Foreign Legion tropical tunic for summer wear. It was most certainly the summer walking out tunic for a soldier who saw service in the Balkans in the 1990s as well as in the Gulf War.
This tunic is a medium, around a size 40 U.S. It is in very good condition with no moth holes, rips or tears. Unfortunately the collar tabs have been removed, but this is rather common with surplus tunics and these could be very easily replaced. However, what makes this one desirable are the awards – which are all included. These include the French Foreign Legion metal parachute wing badge, and a 7 RPCS SAS pocket fob denoting service or training with the French Special Forces.
The shoulder boards indicate this Legionnaire was a sergeant and served 10+ years – denoted by the two gold stripes, which each indicated five years of service. Medal ribbons include: Overseas Medal TChad, awarded to all French personnel, military or otherwise, who served in Chad regardless of the length of service from March 15, 1960 to January 27, 2008; National Defence Medal with clasps for Infanterie (Infantry), Légion étrangère (Foreign Legion), and Missions d'assistance extérieure (Foreign assistance missions); the Saudi Arabian Issued Kuwait Liberation Medal; and the NATO Medal for Yugoslavia, which was instituted in June 1992 and awarded for 30 days' service in the NATO peace-keeping force deployed in the former Yugoslavia and in particular Croatia and Bosnia. Two of the ribbons – TOP RIGHT and BOTTOM CENTER are unknown to me, but are likely decorations for service in the 1990s or early 2000s.
There is some minor staining on one sleeve and holes likely that were added for use with belt loops, but otherwise it displays very well and would be a great addition to any French Foreign Legion collection. The various components are also collectible, so this is reasonably priced.
Price: $75 plus shipping ON HOLD
(Click images below for closer view)
Cold Stream Guard Uniform With Bearskin
The Coldstream Guards is the oldest regiment in the Regular Army in continuous active service, originating in Coldstream, Scotland in 1650 when General George Monck founded the regiment. It is one of two regiments of the Household Division that can trace its lineage to the New Model Army, the other being the Blues and Royals (Royal Horse Guards and 1st Dragoons).
Offered here is a tunic and trousers, likely from the 1980s or perhaps a bit later, from this most famous unit. It is offered with a vintage white buff belt with Queen Elizabeth crown buckle, and bearskin and red hackle. All that is missing is a pair of modern ammo boots and this would be instantly ready for display. The tunic and trousers are on the large size – and by that I mean large for a young British guardsman not an American middle aged collector. The tunic is a size 19 while the trousers are a size 17. The uniform is in lovely condition and free from stains, holes or moth holes.
Price: $925 plus shipping
(Click images below for closer view)
Central Asian Kosovorotka
Here is an item that is a bit of a mystery – it was offered to me as an Indian Army Kurta, which it certainly is not. It has elements of the Kosovorotka, the traditional tunic worn by Cossacks and other warriors from the Russian Steppe.
It has been suggested that this could be a Kosovorotka from one of the other Central Asian nations. It is difficult to date but the construction shows that it is minimal but still rugged for real wear. It has the mini-pockets to hold rifle cartridges and by the look of it bullets did reside there for a while.
Without knowing more details I'm at a loss on this one, but this Kosovorotka is being offered as is with the hope that it will go to someone interested in doing more research. It is reasonably priced.
Price: $225 plus shipping
(Click images below for closer view)

French Foreign Legion Summer Parade Uniform
The Legionnaire, Compagnies Sahariennes Port de la Legion was not without style. It had a colorful dress for wear on parade that was meant to evoke the legions origins and had elements of the Zouave and Spahi regiments.
This included white jacket with full-length sleeve, epaulettes, blue cummerbund, belt with bayonet and kepi. This grouping includes everything seen including the Moroccan Jambiya, mannequin and stand.
This came from a long-time Foreign Legion collector who happened to be in the Legion during the Algerian War. This is thus his uniform and honestly it is one of the most complete uniform groupings I've seen. It is truly a fascinating piece of history and would be a great addition to any uniform collection.
Price: $1,175 plus shipping
(Click images below for closer view)
Welsh Guard Tunic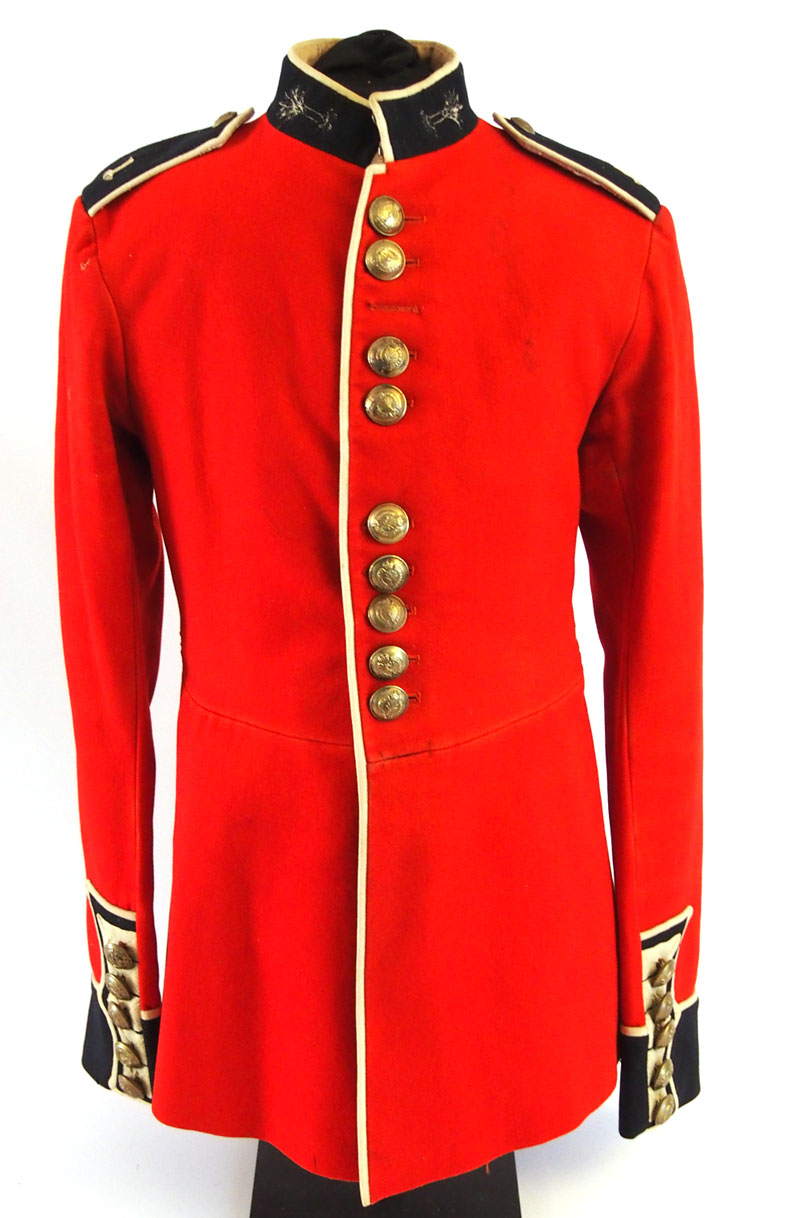 Over the years I've had a lot of "red coats" and I have to say there is just something so jingoistic about these! Offered here is a pre-World War II, possibly even earlier, Welsh Guard tunic. This might be just the thing for anyone who wants a simple and not too expensive example for the collection.
It has some minor staining and there have been some repairs to the sides (see photos). A button is missing as well, but again this isn't bad for a tunic that could be 80+ years old! It is reasonably priced.
Price: $140 plus shipping
(Click images below for closer view)
Royal Marine Colour Sgt. Tunic and Visor Cap
The owner of this uniform likely saw some action as noted by the ribbon bars sewn above the left breast pocket. The tunic is dated 1954, and is likely a replacement for a World War II veterans dress tunic – as noted by the King's Crown buttons, belt buckle and medal ribbons.
King's Crown buttons were used during the transition when Queen Elizabeth II became queen, so it is likely this tunic was used by a Colour Sgt who was either retiring or had recently retired. Either way it displays quite well and includes the red sash, visor cap and white buff belt. Apart from some minor nips and a few very small moth holes to the visor cap this one is near perfect in condition and would make an excellent addition to a Royal Marine display.
Price: $250 plus shipping
(Click images below for closer view)
Grenadier Guard Tunic and Bearskin Cap
"Who do you think is coming to wipe out your little command, the Grenadier Guard?" That's a classic line from the film Zulu. Of course the Grenadier Guard weren't in the Zulu War, but the famous unit was in many other conflicts. Today it is one of the five guard regiments of foot that are responsible for protecting the monarch.
Offered here is a nice inter-war vintage other ranks Grenadier Guard tunic with King's Crown buttons. The tunic is in overall very good condition with some wear to the collar. There is no staining, rips or mothing to the tunic. It is being offered with a other ranks bearskin cap, which is likely of later vintage but these display quite well together. The bearskin shows almost no wear. It doesn't have a hackle, but a red one for the Grenadier Guards are easy enough to find.
As a set these are priced reasonably and these do display fabulously!
SOLD
(Click images below for closer view)
American Hussar Jacket Piece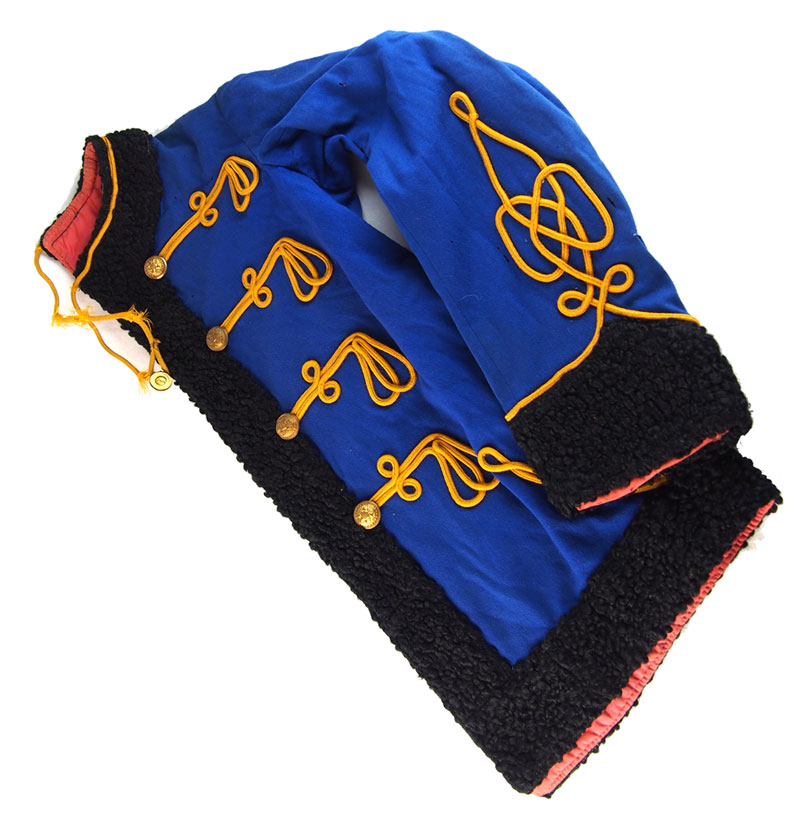 Hussars were colorful light infantry that were utilized by the armies of Europe and the Americas throughout the 19th century. They wore a unique short "Hungarian" style jacket denoted by cords that crossed the chest.
Offered here is one half of a rare American jacket likely from the period between the War of 1812 and the Mexican War. Likely one half of the jacket was ripped, damaged or moth eaten and this half was saved. It still displays really well in a case and features the early federal style buttons, which are present. It is free of major tears or rips.
Given that you only get half a jacket it is priced reasonably.
Price: $200 plus shipping
(Click images below for closer view)
British Parachute Regiment Uniform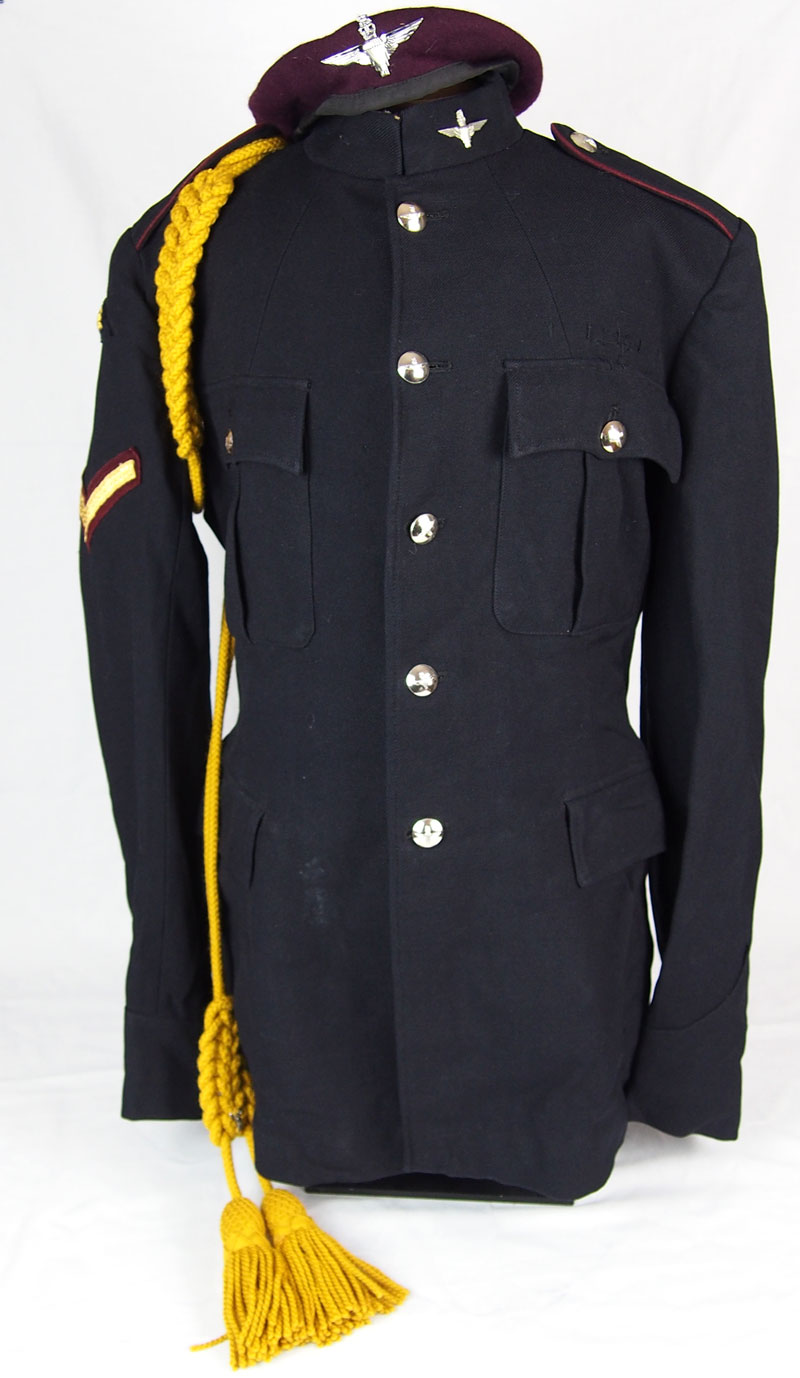 It is easy to think of the "Paras" as always decked out in camouflage but like every regiment in the British Army these brave soldiers have to wear nice clothing at times. Offered here is a No. 1 Dress, sometimes referred to as "blues" – a universal ceremonial uniform which is almost consistent throughout the British Army – to the Parachute Regiment.
This set includes the tunic and trousers and each dates to 1955 – suggesting the owner could have been an older WWII veteran or someone who possibly saw action in the Middle East, Malaysia or during the Suez Crisis.The uniform also includes a 1950s era beret with post-1952 Parachute Regiment beret badge.
This style of dress uniform for the Parachute Regiment has been used from the 1940s to the modern day. The jacket features all of the buttons along with dress cords. Unfortunately only one of the two collar insignia is intact – the other likely lost long ago but it could be easily replaced. Add a white buff belt and beret and this is ready to display and would make an excellent addition to any Para collection! It is priced to sell.
Price: $195 plus shipping
(Click images below for closer view)
Royal Marines Blues No 1 Uniform
The Royal Marines can trace their origins back to the formation of the English Army's "Duke of York and Albany's maritime regiment of Foot" at the grounds of the Honourable Artillery Company in October 1664. Unlike the British Army the Royal Marines are outfitted in blue uniform on parade.
Offered here is a current issue style Royal Marines Blues No 1 Uniform with tunic, trousers and white with red visor cap. This uniform is complete with correct buttons, shoulder and collar tabs. It is a larger size – and its own was 6 feet 1 1/2 inches tall with a 45-inch breast, 37-inch waist and 35-inch inch sleeve length.
It is in excellent condition and would be an excellent addition to a Royal Marines display.
Price: $250 plus shipping
(Click images below for closer view)
Canadian Dress Tunic to the  Les Fusiliers Mont-Royal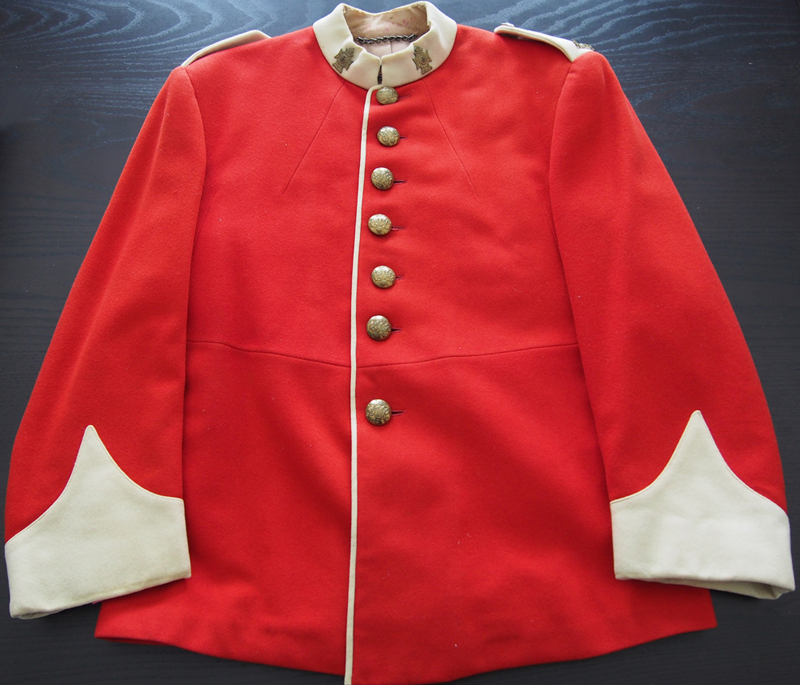 Here is a post World War II era red Canadian dress tunic to the Les Fusiliers Mont-Royal Regiment. The tunic is complete with original buttons, shoulder and collar insignia. It is in excellent condition with no rips, tears or moth holes. It displays extremely well and is tied to a very prestigious Canadian unit, which has its ties to the 65th Mounted Rifles, "Mount Royal Rifles" before serving in both World Wars.
Price: $175 plus shipping
(Click images below for closer view)