Update February 5, 2018

The owner of this site is not affiliated and does not support any political organizations that use the Third Reich, Soviet Russia, Imperial Japan, Ba'ath Party Iraq or any other Communist or Fascist power to further their current political or social agenda. The owner of this site does not support or embrace those who use the ideals of this era as a pretext to perpetuate violence and intolerance. The use of any era symbols on any pieces in this collection should not be misconstrued as support for the ideals or beliefs of the Third Reich, the Soviet Union or Imperial Japan or any other political power.
Note: PayPal cannot be used to pay for Nazi or Iraqi items.
East German Banner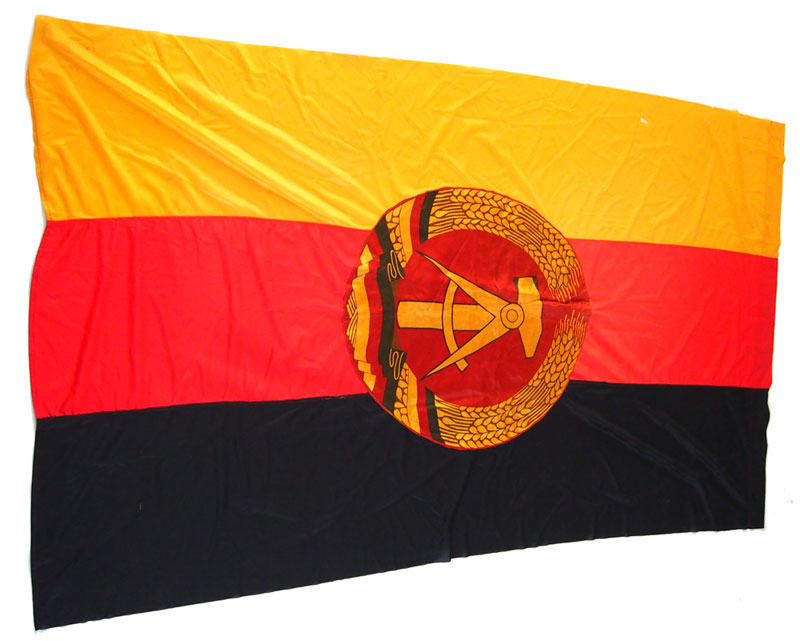 East Germany didn't quite go as overboard as the Nazis in displaying flags and banners, but these items were still used in government and military buildings. For those looking to do a nice East German Army display here is a chance to add a nice backdrop.
This is a Cold War Era – likely 1960s – East German banner that measures 45-inches by 78-inches. It is a banner in that the national emblem of German Democratic Republic (DDR), which features a hammer and compass surrounded by a ring of rye, is sideways to the colors. This was actually the only coat of arms of a European communist state with a ring of grain that does not contain a red star. It was adopted in 1955 but added to the flag in 1959. The emblem is sewn on, not a stencil or silkscreen.
This banner shows some wear – there are a couple small spots of some white paint and a few other stains – but there are no rips or tears. This one is a nice size that could easily go behind a mannequin display. Banners like this are very rare and this is a nice example that shows real honest use.
Price $75 plus shipping
(Click images below for closer view)
Soviet Cold War Banner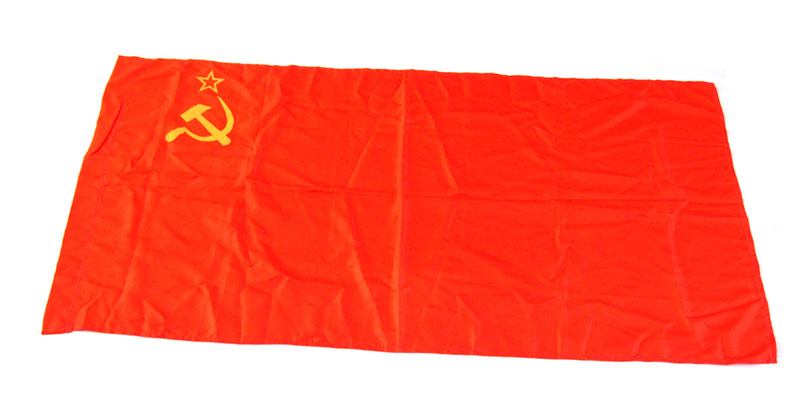 During the Cold War the Soviet's Red Army was not shy about denoting its presence. Soviet banners regularly were displayed in various Communist Bloc countries.
This banner measures 31-inches by 60-inches. It is a 1980s era banner as it features a silkscreened hammer and sickle with yellow communist star. The banner has faded a bit, and the Soviet hammer/sickle/star are just on one side – but can still be seen on the reserve. This would make a great addition to a Soviet Cold War uniform display and is reasonably price.
This is a real deal banner from the Soviet Union, not a post-1990 tourist trade copy.
SOLD
(Click images below for closer view)
U.S. Army Engineer Flag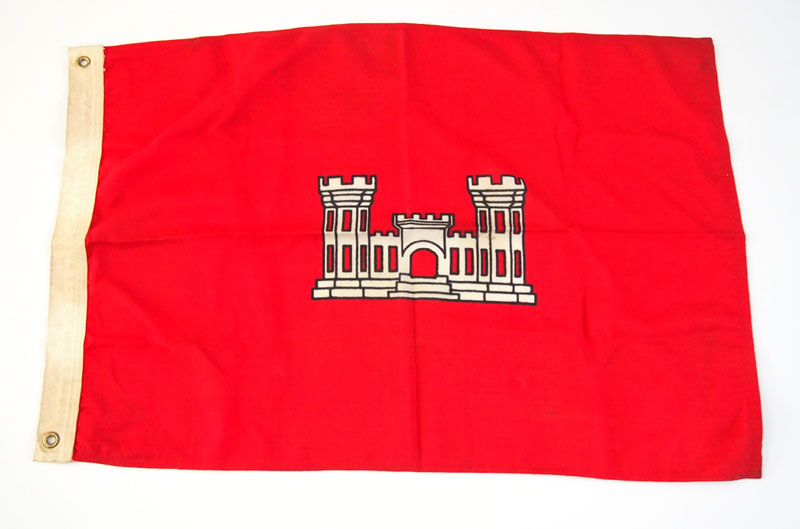 The Army Corps of Engineers has always had an important role to play, and it also has a really cool flag. Here is one of those flags, measuring two by three feet. This is a nice Cold War era example that is a nylon-wool blend, not one of those cheap nylon ones you can buy today.
This is a perfect flag for any engineer display or just a cool flag for the wall. It is reasonably priced too.
Price $25 plus shipping
(Click images below for closer view)
Indian Made British Union Flag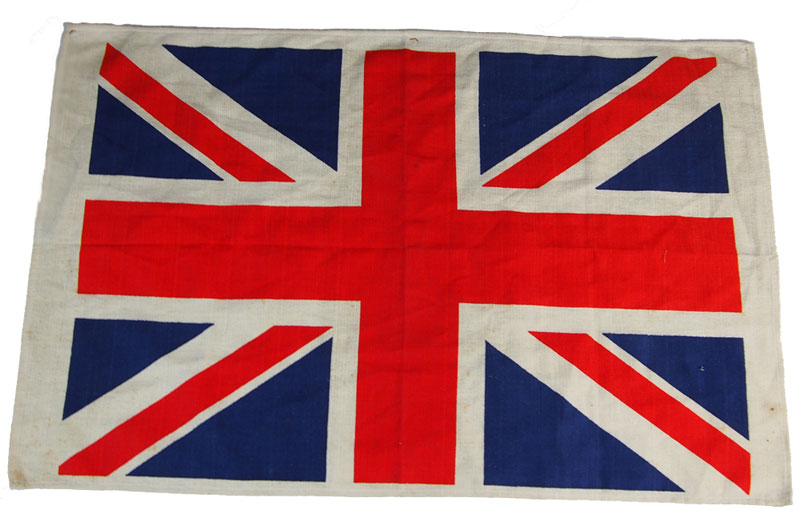 Here is a very unique British Union flag – likely interwar and made in India. It is a 100 percent cotton flag that has been silk screened. It is one sided and would thus nicely serve as a back drop for a British display. It measures 27 1/2 inches by 18 inches. It is free of rips and tears and is in excellent condition apart from some minor wear. It is possible this was meant as a tea towel or other such item, but it still has the right dimensions of land flag and would thus serve well as part of British military display.
Price $40 plus shipping
(Click images below for closer view)
Interwar British Union Flag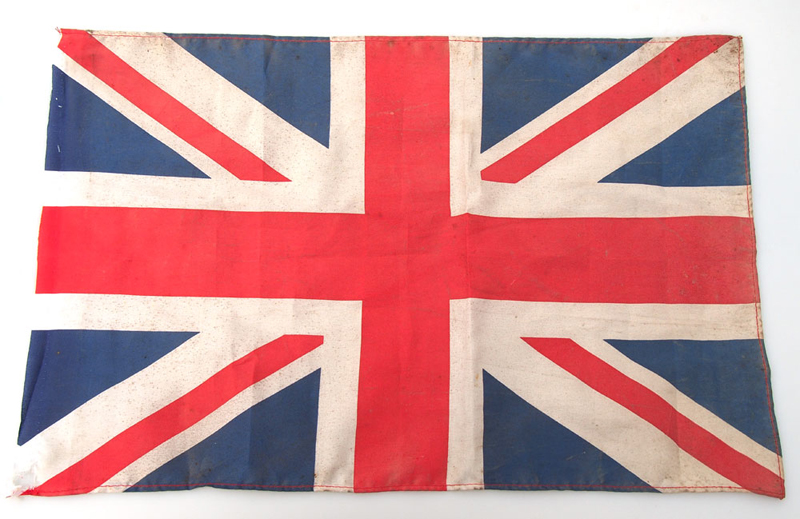 For those looking for a smaller but still period correct flag this is the one. This British Union flag measures just 17 1/2-inches by 11-inches. It is an interwar printed  flag and could have been for a jubilee or other such celebration. It would be a great addition to a British WWI or WWII display. While it is dirty with some stains and a couple of tears this only gives it character and makes for a jolly good flag indeed! It is also affordably priced.
Price $40 plus shipping
(Click images below for closer view)

Baath Party Flag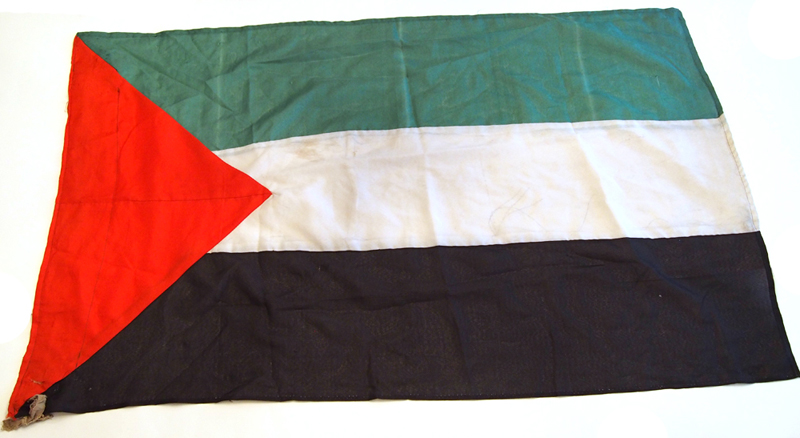 Made up of the Pan-Arab colors, the Baath Party flag of Iraq was very similar to the flag used by the anti-Ottoman forces during the Arab Revolt during the First World War. It is also similar to the flag of Palestine, as these colors are used to represent the Palestinian people.
The colors were reportedly chosen by the Arab nationalist 'Literary Club' in Constantinople in 1909, based on the words of the 13th-century Arab poet Safi a-Din al-Hili:
Ask the high rising spears, of our aspirations
Bring witness the swords, did we lose hope
We are a band, honor halts our souls
Of beginning with harm, those who won't harm us
White are our deeds, black are our battles,
Green are our fields, red are our swords.
(Safi al-Din al-Hili, poet).
Another version of its origin is that the flag was designed by Sir Mark Sykes of the British Foreign Office. Whatever the correct story, the flag was used by Sharif Hussein by 1917 at the latest and quickly became regarded as the flag of the Arab national movement in the Mashriq.
This flag, which measures 29-inches by 50-inches, was brought back from Iraq shortly after Operation Iraqi Freedom and it shows considerable wear and there is even some Arabic writing on it. However, it displays well and would be a nice addition to an Iraq War collection. It is the real deal and not a post-war modern copy.
Price $100 plus shipping
(Click images below for closer view)

Saddam Hussein Era Iraqi Banner Flag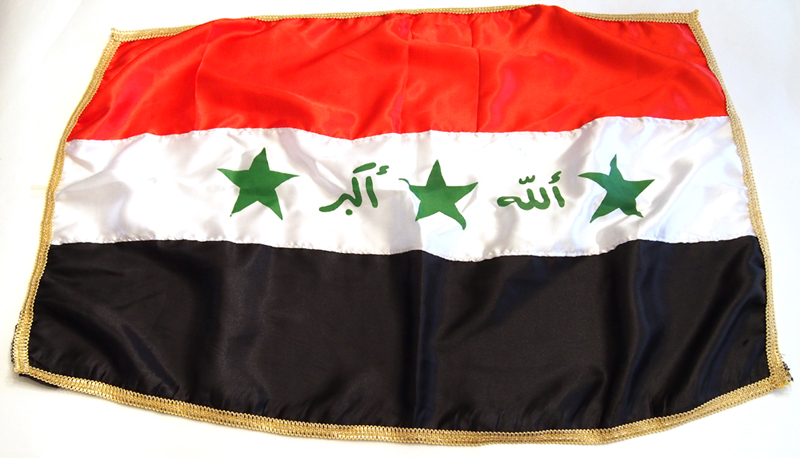 This single sided flag/banner dates from the period after the first Gulf War and remained in use until 2004 after the fall of Saddam Hussein. In January 1991, the flag was modified by Flag Law No. 6 of 1991. At the instigation of Saddam Hussein, the takbīr (the phrase Allahu akbar, meaning "God is great" in Arabic) was added in green between the stars. The form of the takbīr was in Hussein's own handwriting.
It is a single-sided flag/banner that was likely hung on an office wall. It features gold trim around the flag and measures about 20-inches by 30-inches. It is an original pre-Operation Iraqi Freedom banner and would thus make an excellent backdrop for any Iraq War collection and is reasonably priced.
Price $100 plus shipping
(Click images below for closer view)
Pre-World War II British Union Flag (Small Size)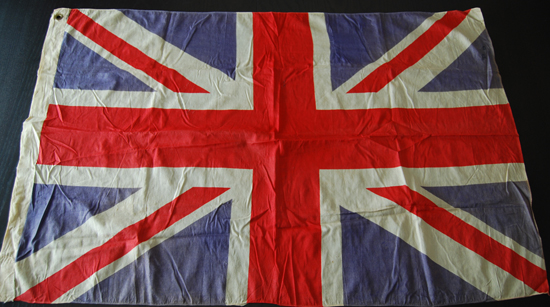 Often called the "Union Jack" this is the official flag of the United Kingdom of Great Britain and Northern Ireland. It is the combination of the Cross of St. George (England), Cross of St. Andrew (Scotland) and the Cross of St. Patrick (Ireland). This example is a printed flag and it measures about 39-inches by 25-inches. It has some minor tears including a small repair, and there is also some soiling.
These flaws add some "character" to it and this would make a great backdrop to a British military display. It is reasonably priced given its condition and age.
Price $50 plus shipping
(Click images below for closer view)