Updated February 18, 2018
Boer War Era "Colonial Pattern" Sun Helmet
Here is a classic looking colonial pattern sun helmet of the type used by British and Commonwealth forces in South Africa. This particular example came from the collection of Clive Law, who sadly passed away last year. This is a Canadian Universal Pattern Helmet based on the British Foreign Service Helmet.
It is a six panel helmet with a nice puggaree. The helmet was fitted with a badge at some point, which was a common practice with Canadian units in the 19th century. While the helmet has been heavily whitened this was also a common practice with these pattern helmets.
It is fitted with a spike, which likely suggests this one was used by an officer. It is a lovely example of a helmet that likely was used by the Canadian forces around the time of the Boer War. It could be fitted with a plate or left as is and this would work with a Canadian or British uniform display. It is nice that it is a larger size – 7 3/8. It is reasonably priced for a helmet that is well over 100 years old.
Price: $1750 plus shipping
(Click images below for closer view)
19th Century "Colonial Pattern" Sun Helmet
Rarer than any SS helmet is a "Zulu War" sun helmet – in part because only a few thousand British and Commonwealth soldiers actually took part in the action. Almost as rare is any helmet that is of the proper pattern that could have even been used in the conflict.
Here is such a helmet. This one a late 19th century British style "Colonial Pattern" sun helmet with six panels. It was fitted with a  badge at some point, suggesting it could have been used by Canadian or Colonial Forces in South Africa – each of whom wore badges at various time in the field and on parade.
This helmet has been whitened but shows a bit of staining, which is expected of a helmet that was used in the field. It is a great example of a helmet that has real character.
Price: $1250 plus shipping
(Click images below for closer view)
Canadian Pressed Fiber Naval Wolseley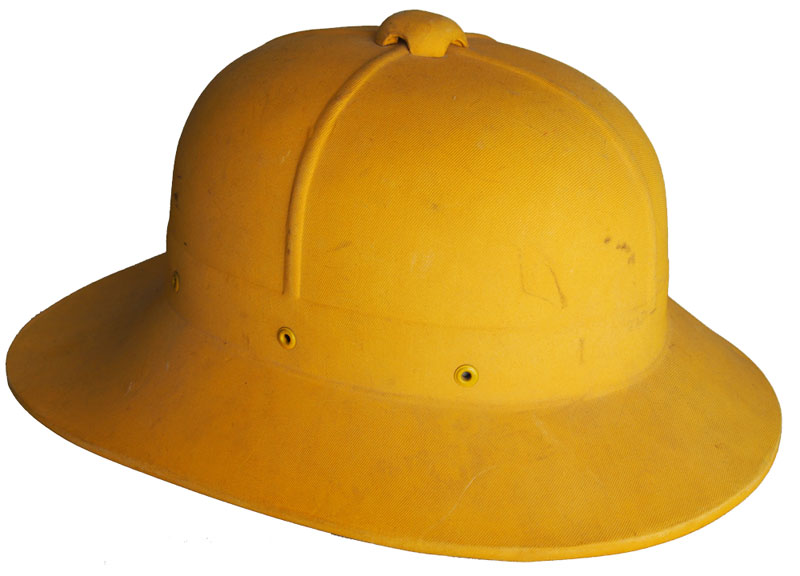 This is a very unique helmet and is only the second one I've ever seen in the flesh. This is a World War II era pressed fiber helmet, most likely produced by Hawley Canada for the Royal Canadian Navy. It is based on the naval pattern Wolseley helmets that were introduced in the late 1930s.
The helmet has some minor stains and unfortunately the original chinstrap is broken but other than that this is a complete example of a pattern rarely encountered.
Price: $125 plus shipping
(Click images below for closer view)

British Interwar Era Naval Wolseley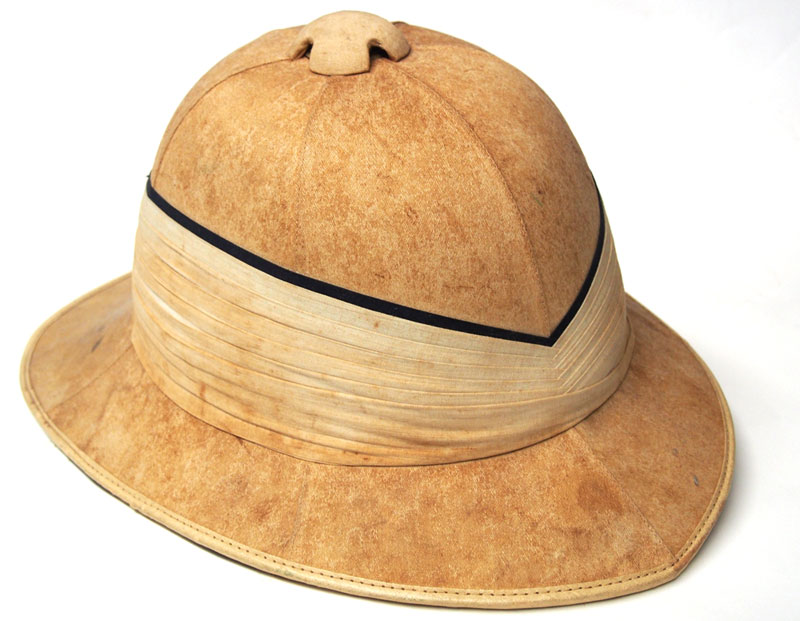 While the British Army began to phase out the Wolseley helmet before World War II – only to produce many more once the war broke out due to the complexities of getting Indian-made sun helmets to Europe and even North Africa – the Royal Navy continued to embrace the helmet. These were reduced in size a bit once the war broke out, but the full size Wolseley pattern was still in use in 1939.
Here is a lovely undated example that is likely from the late 1920s or early 1930s. While it is stained a bit what makes this one so nice is that it hasn't been heavily whitened with Blanco or other polish. Instead it is the original uncovered cloth. This example likely was issued to an officer and only saw limited use based on the interior. The staining could have occurred during storage on ship. Likely this helmet was used in the North Atlantic where sun helmets weren't so readily needed. The result is a helmet that shows honest wear yet isn't overly beat up. There are no tears and no cracking to the cork. This is simply a nice Wolseley – and denoted by the strip of dark blue (Naval Blue) cloth in the puggaree it is absolutely Royal Navy!
Price: $200 plus shipping
(Click images below for closer view)
Italian Model 1928 Sun Helmet
The Italian military likely copied the British Wolseley when it came to developing a more modern sun helmet. The Model 1928 sun helmet was produced in large numbers and introduced in the early 1930s. There were used in the final years of Second Italo-Libyan, during the invasion of Ethiopia and during the North African campaign in World War II.
This example shows some wear but it may not have been issued. There is unfortunately a small dent in the dome and the rear brim on one side has bent slightly from years of storage. However, as Italian M28 helmets go this is a clean one without major stains, tears or serious issues. It doesn't have a badge but the truth is that most of these were never issued with a badge. This is just a real honest WWII era Italian sun helmet that displays quite nicely.
Price: $120 plus shipping
(Click images below for closer view)
Vietnamese Military Sun Helmet
Today you can go to Vietnam or eBay and find "tourist" examples of the iconic Vietnamese sun helmet. Here is one that is absolutely, positively NOT wartime but it is a true military example. This one probably dates from the 1990s or later – this pattern helmet is still worn by the Vietnamese Army today. It is a real deal helmet that is close in design to the ones used during the Vietnam War and in other conflicts.
This one appears unissued and was likely sold as military surplus. Still it is NOT a tourist helmet and is a real unissued military helmet. I'm offering it at a price that the tourist ones typically sell for online.
Price: $40 plus shipping
(Click images below for closer view)
American Model 1889 Sun Helmet
While the American Model 1889 sun helmet is khaki in color here is one that is white – this isn't a Model 1887 helmet, which was white, but a helmet that was likely heavily whitened with Blanco or another polish over the years. This was typically done when these were used as summer dress helmets and the whitening would hide stains. This helmet has some cracks to the front rim, but does display quite well.
It is a larger size, likely around 7 1/4, so for someone looking to wear one for re-enactments this would be a good way to go too. It seems to be a real "been there" helmet and would be a great addition to a collection – and it is affordably priced given the issue to the front rim.
Price: $190 plus shipping
(Click images below for closer view)
American Model 1880 Sun Helmet
While the American Model 1887 and 1889 sun helmets aren't exactly common, these aren't rare. The harder to find helmet is the earlier Model 1880 helmet, which had a more flared brim than the latter patterns. The Model 1880 helmet was the first style of helmet adopted by the American military, and reportedly only some 6,000 were produced. As with the later patterns this helmet features a four-panel construction.
Offered here is one of the nicest examples that I've come across. Apart from a slight tear to the cloth on the rear of the helmet this example is otherwise in mint condition. It is actually likely that the cloth torn when the helmet was handled badly as the cork is also cracked. No attempt has been made (or in my opinion should be made) to fix this minor issue. As it is on the back of the helmet it displays extremely well otherwise.
The helmet is free of any notable stains. There is some minor wear to the green cloth under the brim but this is likely from age. The headband shows minor wear, suggesting it was issued but not overly used. The original blue leather liner string is complete and intact. There is a former museum mark on the leather band, which has been blackened out unfortunately, but again this is all too common with items that were once in these collections.
This helmet is also sized seven and is one of the largest examples I've seen as well, which makes it also very desirable. This is simply a great helmet and I'm happy to offer it. It is priced accordingly.
Price: $250 plus shipping
(Click images below for closer view)
American M1889 Sun Helmet – Large Size
Here is a nice example of the "classic" American sun helmet from the end of the 19th century. It is the Model 1889 helmet in khaki. It appears to have been stained and lightly cleaned with blanco. It shows actual wear so this likely saw use and wasn't just something that was sold via the Bannerman Catalog. What really makes it is nice is that it is complete with size stamp (7 1/2) and patent label (May 2, 1899). As this is a size 7 1/2 it is one of the larger sizes I've seen.
The helmet is solid and will display quite nicely. There is the issue of the staining, but this was common for helmets that were actually used. The leather headband is torn in one spot but is otherwise in good and supple condition. If you were going to have just one of these helmets this would be the one.
Price: $225 plus shipping
(Click images below for closer view)

Japanese Pre-World War Private Purchase Officer's Helmet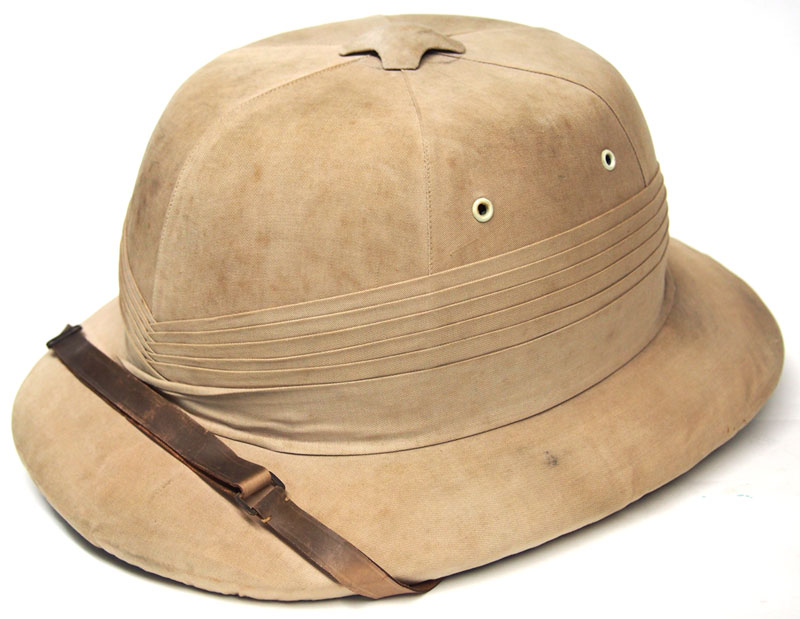 This style of helmet has been dubbed "English" or "safari" pattern, but it doesn't really have an official moniker. These were a private purchase item used by Japanese officers and to a lesser degree NCOs. There is much debate as to whether these helmets were actually produced in Japan or were an import item. What is unique about these helmets is that these are made of both sola pith and cork – the interior is lined with cork, which was likely imported from Portugal. Given the use of sola pith it is likely these were in fact made in Japan.
These helmets are also notable in the use of animal brands – and this is from the more popular "Hare Brand" of sun helmets. It lacks a Japanese Army star on the front, but shows staining on the leather liner band. It is likely this was used by a Naval Landing Force officer, who weren't as likely to add an insignia on the front. The helmet is in excellent condition apart from some notable wear to the exterior and the aforementioned sweat stains on the headband. There is a small tear on the underside of the brim, but this hardly detracts from the helmet. All in all this one would display quite well – and it would make a great addition to a Japanese Army or NLF display.
SOLD
(Click images below for closer view)
Late WWII Early Cold War American Pressed Fiber Helmet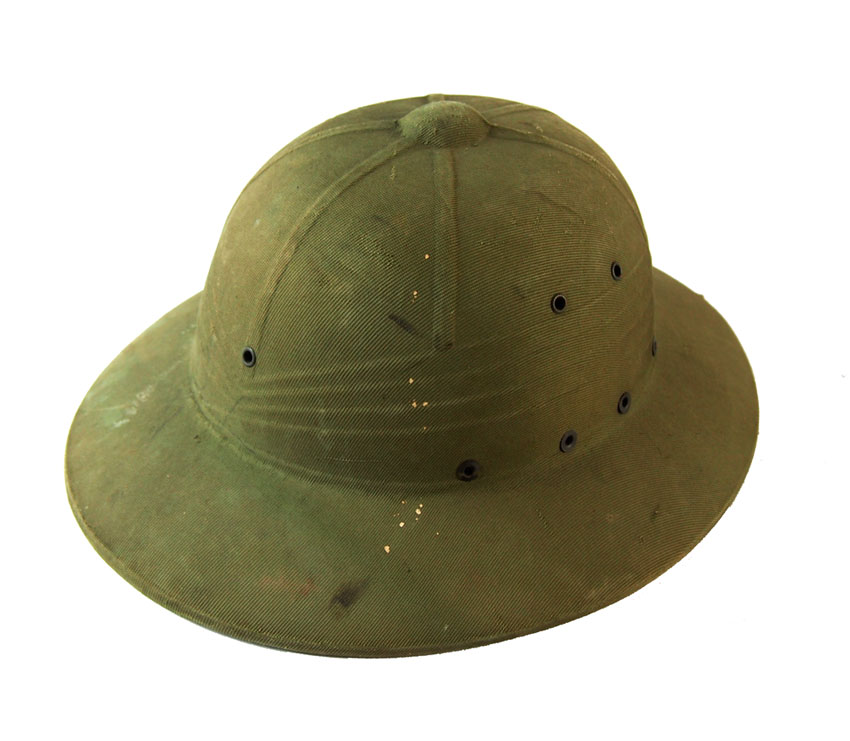 These are truly the helmets that get no respect but actually have been the longest serving piece of American headgear. Introduced in the 1930s the pressed fiber helmets still are used by the USMC on the shooting range today.
Here is a late WWII or early Cold War example. It features no surplus stamp, so it is my opinion that it is likely a late war helmet. It is in overall good condition. If you only needed one of these to fill out the collection this might be the one.
Price: $30 plus shipping
(Click images below for closer view)

Royal Canadian Army Service Corps. Wolseley Helmet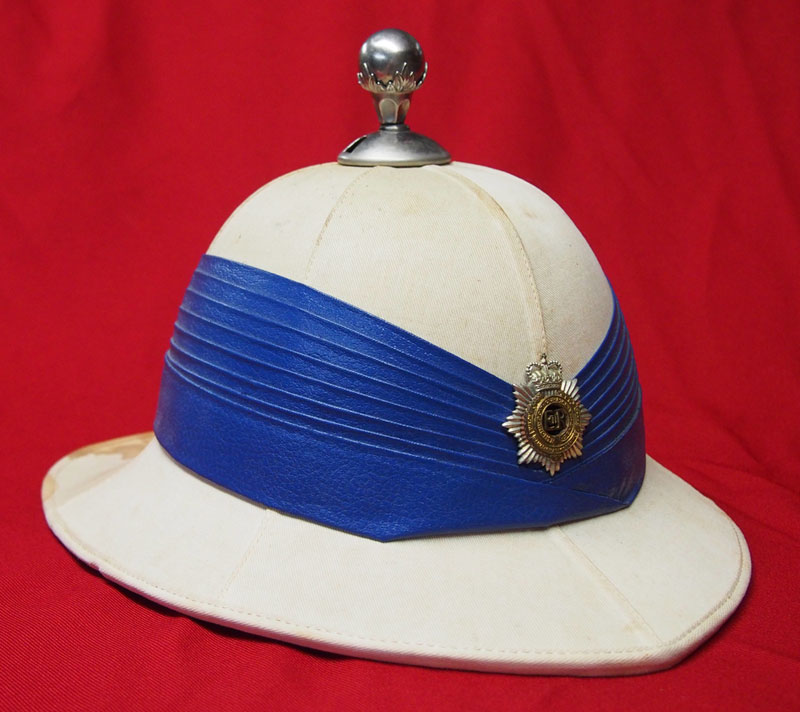 The Canadian military adopted the Wolseley pattern helmet as part of the dress uniform and many regiments continue to wear it to this day. Here is a post-war Wolseley sun helmet to the Royal Canadian Army Service Corps. It was made by J. Compton Sons & Webb in London and is a size 7 1/8.
The Wolseley helmet was worn by officers at times in place of the traditional cavalry busby. This particular helmet is complete with ball (in place of spike) and base as well as a two-prong badge to the Royal Canadian Army Service Corps, along with a blue vinyl tape for the puggaree. It is unclear exactly why the tape was used over cloth but several Canadian regiments used this tape.
The helmet is in very good condition apart from rather unfortunate staining to the rear brim. While this could be cleaned up with blanco I've left it as is, and honestly when displayed on a shelf it is hardly noticeable. All in all this is a nice and rather unique helmet!
Price: $225 plus shipping
(Click images below for closer view)
 

Thai Army Officer's Helmet – Pre-World War II
Sun helmets from Thailand have always been hard to find – the weather does a number on these items. So this is a rare one indeed. It is a Thai Army sun helmet from the pre-World War II era. It features a design that is truly unique as it has a shape similar to a British Wolseley but certainly incorporates elements of the French Model 1931 helmets. It has a Thai bullion cap badge affixed to the front.
This is a unique piece and previously I've seen such items in photographs. The overall condition of the helmet is very good apart from a few stains and scuffs, which is expected considering its age. There is some wear to the liner and the green underside lining of the brim. Otherwise this is a helmet that should display quite well.
Price: $275 plus shipping
(Click images below for closer view)
American M1889 Sun Helmet
Yes, I keep posting nice examples of the American Model 1887 and American Model 1889 sun helmets. When I see them I jump on them. This one may have had someone literally jump on it as the front brim is crushed. I considered repairing it but opted to just keep it "as is" – this one has real character and likely did see use.
Despite the crushed brim it still display wells. It isn't going to get better but if resting on a shelf it really won't get worse. This is a budget example of helmet that is become a lot harder to find.
Price: $160 plus shipping
(Click images below for closer view)
Post World War II Indian Pattern Helmet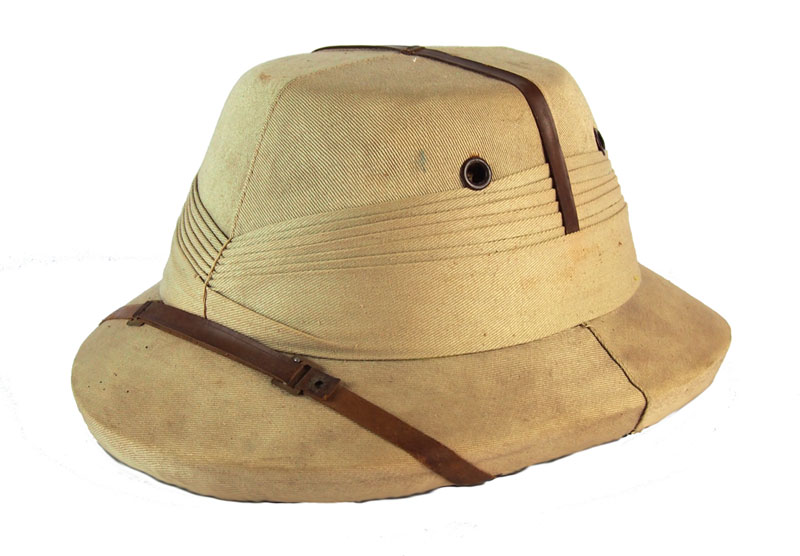 If you needed a helmet for your next safari or just to mow the lawn this one is perfect – provided a 7 1/8 sized helmet will work. It is a 1950s or so era Indian-made Bombay Bowler. The condition is excellent apart from some nice patina on the chinstrap loops and vent grommets. It is complete with original chinstrap and the liner is fully intact. Even if you just want a helmet to hang on the wall in the mancave this is the one!
Price: $30 plus shipping
(Click images below for closer view)
Vintage Dutch East Indies Bamboo Helmet
Here is a unique piece – probably not military – but still very cool. It is a vintage Dutch East Indies sun helmet that is made of strips of bamboo. This style of helmet was used on plantations before and after World War II. This one is hard to date, but it looks old.
It is a very unique example and one of only two I've ever seen. Given that these are fragile very few have likely survived. It is something you truly don't see every day.
Price: $40 plus shipping
(Click images below for closer view)
Italian East African Sun Helmet
Offered here is another unique piece. It is a straw sun helmet, complete with original liner. There is no cloth covering on this helmet, but this is how many of these were marketed in the Italian colonies in East Africa before World War II.
These were pressed into service during the Italian resistance in late 1940. It is hard to say if this one actually dates from that period but it has the right look. Few of these have survived, making this a rather rare example. It is reasonably priced.
Price: $50 plus shipping
(Click images below for closer view)
British West Indies Regiment Helmet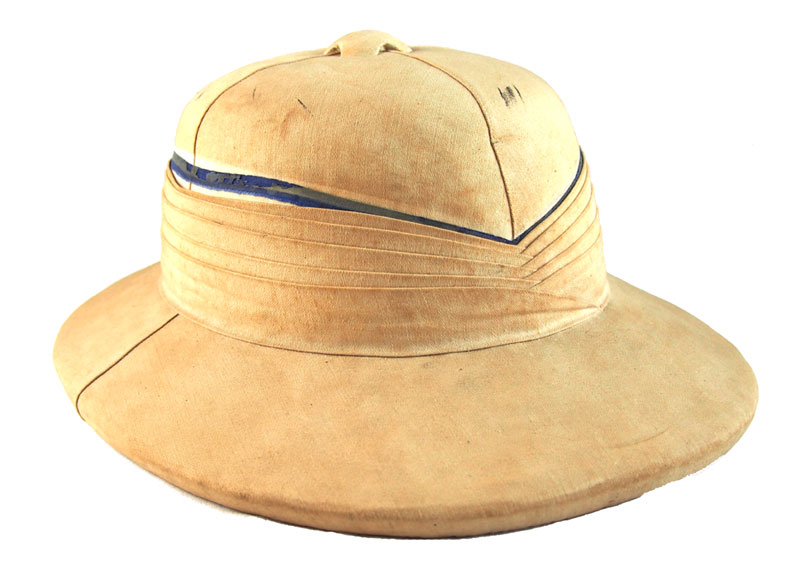 Few sun helmets were actually made in the West Indies, but helmets were imported from Europe – made of cork – and from India, which were made of shola pith. The pith helmets are actually rarer, likely because of the distance from India.
However, the British West Indies Regiment adopted pith helmets, and these included private purchase officers helmets such as this example offered for sale. It is the classic "pith helmet" with a multi-fold puggaree, including a strip of blue fabric indicating use by the regiment. This helmet was likely used by a British officer in the interwar period before it was disbanded in 1927.
This is a fine example of a rare helmet with only minimal staining and few small "dents" to the pith material. The chinstrap is broken,  but it otherwise displays quite well. It is reasonably priced.
Price: $100 plus shipping

(Click images below for closer view)
French Model 1931 Sun Helmet
Introduced in the early 1930s the French Model 1931 sun helmet was used throughout World War II and into the 1960s. Offered here is a classic example of the earliest version of this helmet pattern. It is dated 1939 but has no badge. It is likely that this particular helmet was never issued or was only used briefly.
It could shows some storage wear, but otherwise is in overall excellent shape. This is one of the finest examples of a French M31 that I've seen, and the cork is solid.
Price: $150 plus shipping

(Click images below for closer view)
Italian Police Sun Helmet (City of Milan)
The Italian police and paramilitary forces continue to use sun helmets in the summer months. Offered here is an issued example of the classic Italian police sun helmet. It is based on the Model 1911 sun helmet, but is made of plastic or fiberglass. This example is in excellent condition apart from minor storage wear. Even the original maker labels are present.
It is hard to find such a nice example of an Italian summer sun helmet, and this example features a modern badge for the City of Milan. It is reasonably priced.
Price: $90 plus shipping

(Click images below for closer view)
British "Indian" Pattern Pith Helmet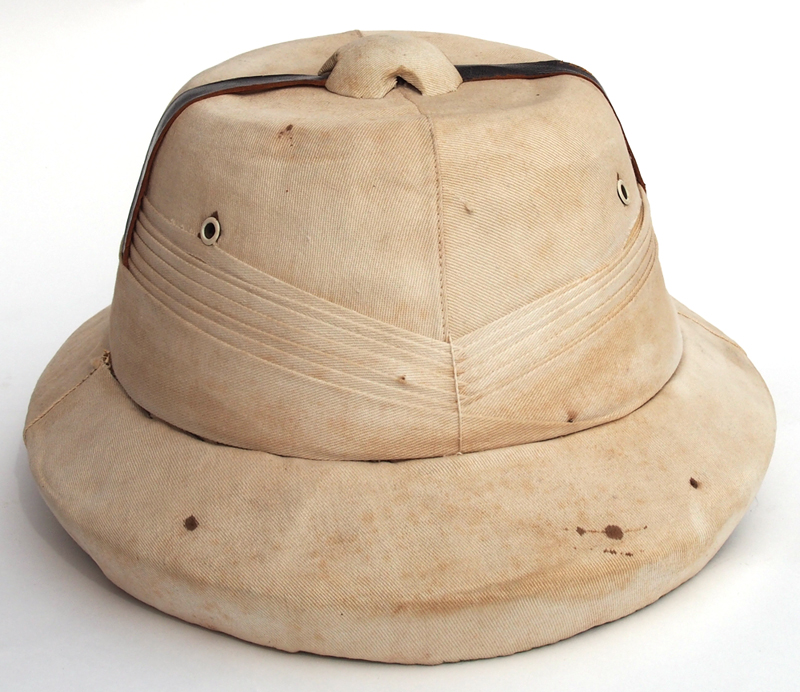 Many tropical sun helmets are called "pith helmets" but this is often times inaccurate and overly generalized. While the pattern helmet originated in India, the sun helmets made in Europe are typically made of cork or felt. However, here I'm offering the real deal – a true "pith helmet." It is an interwar Indian Pattern helmet. It is thicker and bulkier than the Cawnpore or Bombay Bowler patterns, but not quite as large in size as a khaki sola pith hat. Regardless of the nomenclature these helmets have two things in common: first, they were used by civilians and soldiers alike to protect the wearer from the sun and second, I think these are very cool!
This example was made in India, and the label inside says as much. It was also produced by P.S. Sun Hat (which given my initials I also find kind of cool). As noted by the label it was actually produced for the military and likely was a private purchase example to a British soldier – probably an officer. This is only the third example of an India pattern helmet that I've ever owned.
This example is in good condition, however there is some minor staining and the chinstrap is broken. The helmet's brim is starting to come apart from the top "bowl" of the helmet – something all too common with these older helmets. Despite these drawbacks it displays very well and is a nice solid example of a rather uncommon British-used tropical helmet. No collection of British military sun helmets is really complete without one of these – I have one in my collection and I'm offering this one for sale at a very reasonable price.
Price: $75 plus shipping

(Click images below for closer view)
Canadian Pressed Fiber Helmet
The Canadian Army acquired the "fibre" helmets prior to the outbreak of the Second World War for summer training as a substitute for the more expensive and fragile Wolseley helmet. The chosen supplier was the United States based manufacturer Hawley Inc., which also supplied the pressed fiber sun helmets to the United States Marine Corps, United States Army and United States Navy. The demand from Canada was apparently so great that a Canadian factory was set up.
The helmet featured a faux three-fold puggaree, which was the number of folds in the British-produced Wolseley helmet of the era. Unlike the American designed helmets these offered three sets of vents on each fold of the faux puggaree. It features the badge of the Canadian Infantry Corps.
The Canadian version helmets are much rarer than the American versions, and this example shows honest wear but still displays very well.
Price: $100 plus shipping
(Click images below for closer view)