Updated October 12, 2017

Royal Canadian Army Service Corps. Wolseley Helmet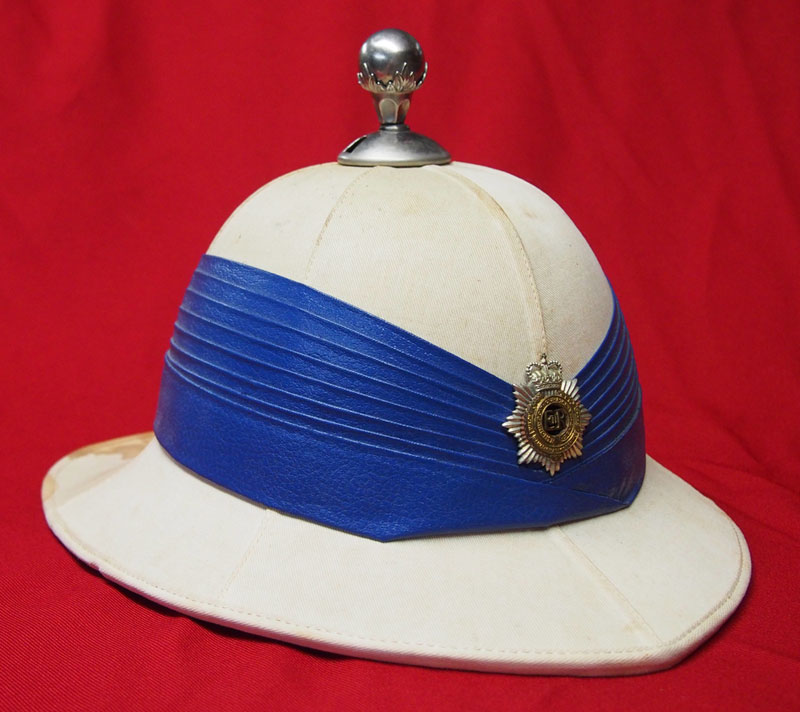 The Canadian military adopted the Wolseley pattern helmet as part of the dress uniform and many regiments continue to wear it to this day. Here is a post-war Wolseley sun helmet to the Royal Canadian Army Service Corps. It was made by J. Compton Sons & Webb in London and is a size 7 1/8.
The Wolseley helmet was worn by officers at times in place of the traditional cavalry busby. This particular helmet is complete with ball (in place of spike) and base as well as a two-prong badge to the Royal Canadian Army Service Corps, along with a blue vinyl tape for the puggaree. It is unclear exactly why the tape was used over cloth but several Canadian regiments used this tape.
The helmet is in very good condition apart from rather unfortunate staining to the rear brim. While this could be cleaned up with blanco I've left it as is, and honestly when displayed on a shelf it is hardly noticeable. All in all this is a nice and rather unique helmet!
Price: $225 plus shipping
(Click images below for closer view)
 

American WWII Pressed Fiber Helmet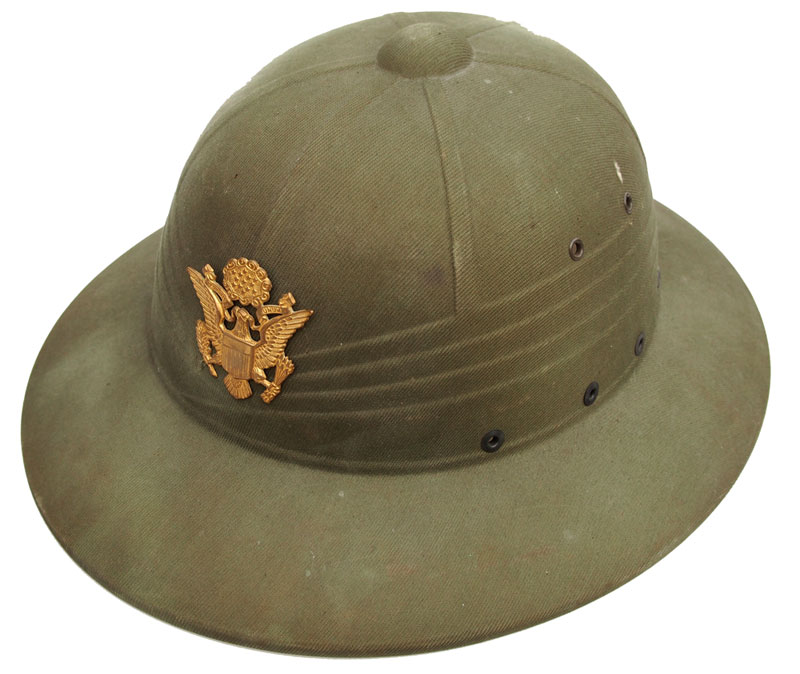 The American pressed fiber helmet was among the longest used pattern of headgear used by the U.S. military. Introduced in the 1930s it is still used today, so these are far from an uncommon helmet.
However, this is a 1944 dated example complete with U.S. Army Officer's cap badge, making this a far more desirable example. It is the darker green style that was favored by the Army as well as U.S. Navy during World War II. The helmet shows some wear, suggesting it wasn't just something that sat in storage until ending up on a surplus store shelf. It is a Hawley example and features the maker stamp inside.
Price: $65 plus shipping ON HOLD
(Click images below for closer view)

100 Year Old British Wolseley Dated 1917
Wolseley helmets have some great character. While not the perhaps as iconic as the Foreign Service Helmet that was worn while the British Empire expanded and grew into the largest colonial empire ever in history, the Wolseley was the helmet worn on the battlefields of Gallipoli, Gaza, Jerusalem and East Africa during World War I. Finding a World War II Wolseley is easy as going to any large militaria show and I'll admit I have more than a few in my collection.
Finding an original World War I pattern Wolseley is much harder – harder in fact than finding a pre-WWI one. The reason is that most that were used WERE USED in combat, and that meant few made it home in one piece. Here is one that is intact and has real character. Unfortunately the dome is crushed and the cork is cracked. There is some minor cracking to the front brim as well. This isn't uncommon for a 100 year old helmet, which happens to be the age of this one.
It has a mostly intact date stamp from 1917, which to me is really damn cool. This helmet is made of cork and dated 1917, meaning it is incredibly rare because cork was in short supply and helmets that year were produced of straw. This helmet also has the thick WWI style puggaree that you don't see in the World War II or later versions. The original chinstrap is even intact, but one end is broken. However this could be repaired and actually still hangs well enough as is.
In other words, this is about as WWI as you can get with a British sun helmet.
Despite the damage to the cork it does display very well. As noted it is dated and even has the wartime Broad Arrow stamps. We wish this one could talk. While too late for Gallipoli it could have been on the Palestine Front at the Battle of Gaza or with General Allenby at Jerusalem in December 1917, or with the British forces in East Africa. It is just a really cool helmet and I've priced it accordingly for the damage.
SOLD
(Click images below for closer view)
First Pattern German Tropical Helmet – American War Trophy
Here is a rather unique helmet that has seen much better days. It is a first pattern World War II German tropical helmet, noted by the greenish color of the fabric as opposed to the later khaki color. This helmet doesn't have the German shields but instead has World War II period enlisted men's collar insignia on the side and front. The general U.S. insignia are on the left and right, while an artillery collar badge is on the front.
The tabs appear to have been on the helmet for a VERY long time, and there is little indication that shield had been in place apart from the three prong holes on each side. This suggests that the shields were removed a long time ago, and replaced with the collar insignia.
This was likely a North African pick-up and possibly even worn by an artillery NCO. The helmet has been crushed on the top, which could have happened when it was "stored" in a duffle bag during the boat ride home. The helmet shows use and age.
Despite the crushed top it displays well if placed on a stand or if material is packed inside the helmet. All in all it makes a fascinating piece that is a true war trophy.
SOLD

(Click images below for closer view)

Thai Army Officer's Helmet – Pre-World War II
Sun helmets from Thailand have always been hard to find – the weather does a number on these items. So this is a rare one indeed. It is a Thai Army sun helmet from the pre-World War II era. It features a design that is truly unique as it has a shape similar to a British Wolseley but certainly incorporates elements of the French Model 1931 helmets. It has a Thai bullion cap badge affixed to the front.
This is a unique piece and previously I've seen such items in photographs. The overall condition of the helmet is very good apart from a few stains and scuffs, which is expected considering its age. There is some wear to the liner and the green underside lining of the brim. Otherwise this is a helmet that should display quite well.
Price: $275 plus shipping
(Click images below for closer view)
South African "Polo" Helmet – World War II Era
The South African "Polo" style sun helmet proved popular with the South African soldiers and the Germans alike. The Germans had captured stocks of these made in the Netherlands that were intended for the South African Army. Don't believe the stories that these were ever intended for the Dutch Army because those rumors are totally wrong.
The South Africans had contracted the Dutch to make the helmets in 1940 when it appeared that the Netherlands would be neutral. Things changed quickly in May 1940 when the Germans invaded the Netherlands and captured stocks of helmets.
The South Africans then turned to the British – as South Africa was part of the Commonwealth at the time – and British hat makers stepped up and produced a similar helmet. The main difference is that the South African helmets made in the 1930s and the Dutch ones from 1940, which was the ONLY year any Dutch helmets were made, included a top ventilator. The British polo helmets were made by firms that actually made real "polo" helmets for playing the game with the horses. These lacked the ventilator.
So here is an English made example that came out of an old collection and was likely a North Africa bring back. This helmet is made of cork and that cork has seen much better days. The top of the helmet is completely crushed and there is really no easy way to repair it unfortunately. However, if placed on a mannequin head or just stuffed with foam or even a towel this one displays quite well. The color is lovely and unlike so many "unissued" examples this one likely saw some use. It has stains on the underside and truly this is a helmet with character. Given its issues I've priced it quite reasonably!
SOLD
(Click images below for closer view)
American M1889 Sun Helmet
Yes, I keep posting nice examples of the American Model 1887 and American Model 1889 sun helmets. When I see them I jump on them. This one may have had someone literally jump on it as the front brim is crushed. I considered repairing it but opted to just keep it "as is" – this one has real character and likely did see use.
Despite the crushed brim it still display wells. It isn't going to get better but if resting on a shelf it really won't get worse. This is a budget example of helmet that is become a lot harder to find.
Price: $160 plus shipping
(Click images below for closer view)
Canadian World War II Dated Naval Wolseley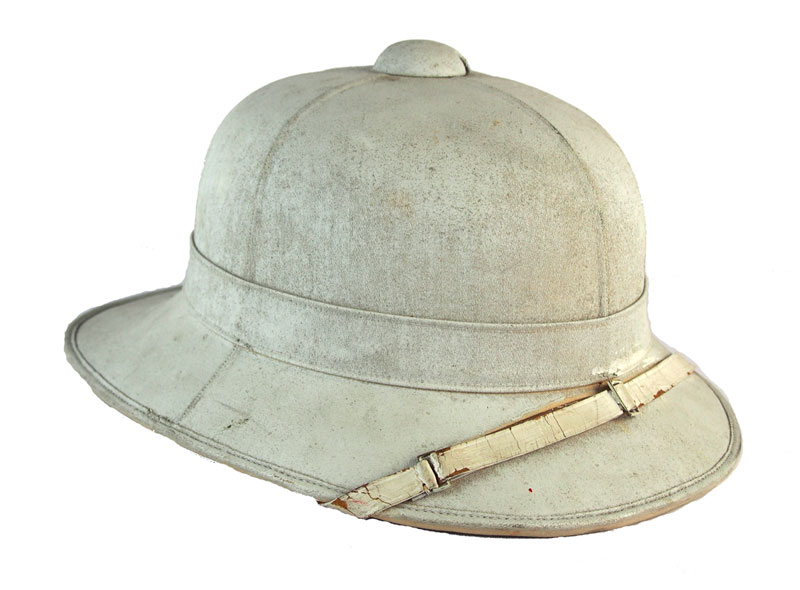 Technically not a true "Wolseley" helmet – this pattern was developed prior to World War II for use by the Royal Navy, and also adopted by the Canadian and Australian naval forces. This example is dated 1942 and came out of the depots in Montreal – it features the W.M. Scully Ltd. stamps inside.
The helmet has been heavily whitened – which was common with naval helmets as this helped waterproof the helmet. It is a bit plain looking but in good condition for a helmet that is now more than 74 years old! There is some wear and rot to the leather headband, but it is mostly complete while the original chinstrap is intact. This is a nice example of a not-too-common helmet. It is reasonably priced.
Price: $100 plus shipping

(Click images below for closer view)
Post World War II Indian Pattern Helmet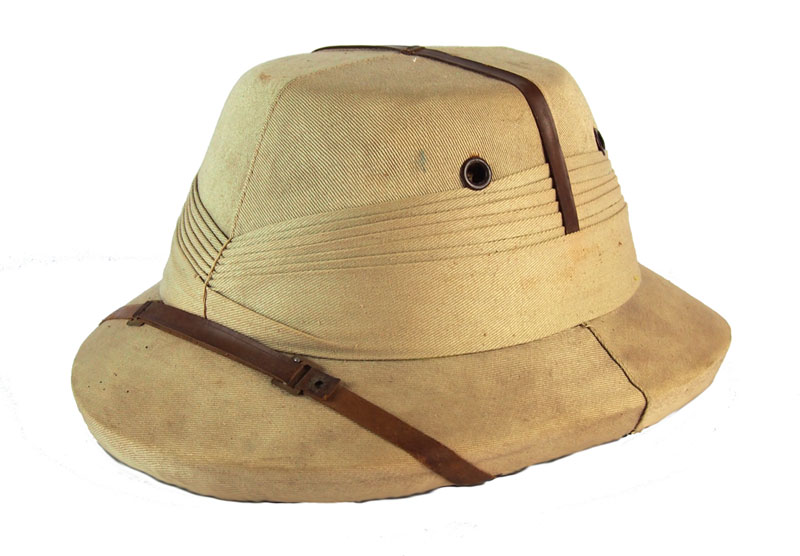 If you needed a helmet for your next safari or just to mow the lawn this one is perfect – provided a 7 1/8 sized helmet will work. It is a 1950s or so era Indian-made Bombay Bowler. The condition is excellent apart from some nice patina on the chinstrap loops and vent grommets. It is complete with original chinstrap and the liner is fully intact. Even if you just want a helmet to hang on the wall in the mancave this is the one!
Price: $30 plus shipping
(Click images below for closer view)
Vintage Dutch East Indies Bamboo Helmet
Here is a unique piece – probably not military – but still very cool. It is a vintage Dutch East Indies sun helmet that is made of strips of bamboo. This style of helmet was used on plantations before and after World War II. This one is hard to date, but it looks old.
It is a very unique example and one of only two I've ever seen. Given that these are fragile very few have likely survived. It is something you truly don't see every day.
Price: $40 plus shipping
(Click images below for closer view)
Italian East African Sun Helmet
Offered here is another unique piece. It is a straw sun helmet, complete with original liner. There is no cloth covering on this helmet, but this is how many of these were marketed in the Italian colonies in East Africa before World War II.
These were pressed into service during the Italian resistance in late 1940. It is hard to say if this one actually dates from that period but it has the right look. Few of these have survived, making this a rather rare example. It is reasonably priced.
Price: $50 plus shipping
(Click images below for closer view)
American Pressed Fiber Sun Helmet – Cold War Era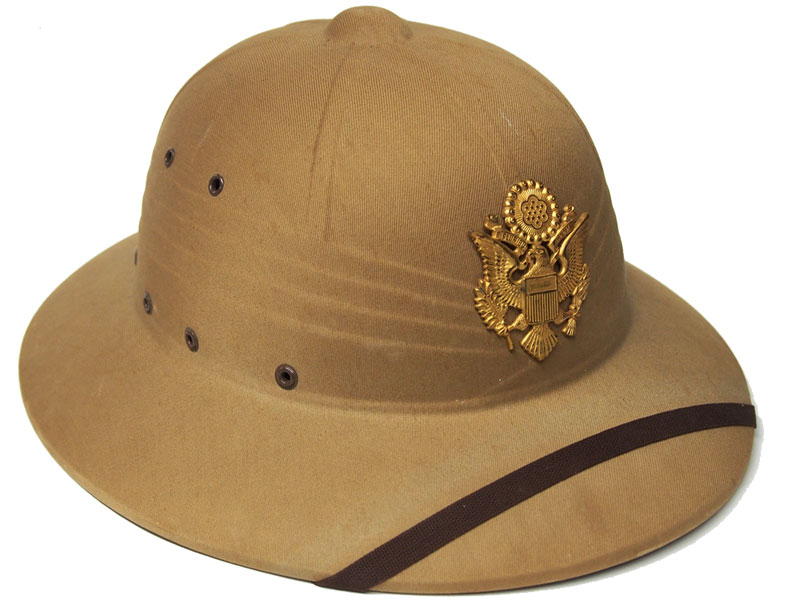 The American pressed fiber sun helmet is the ugly step child of American military headgear. The fascinating part of the story is that it is essentially a cheap copy of the British "Standard Pattern" sun helmets that USMC officer's wore in Haiti in the 1920s and 1930s. It was adopted by the USMC as a training helmet but then used by all branches of the service for decades. The helmets are still used on the shooting range by the USMC and in some stations by the U.S. Navy.
Despite these facts – not to mention that it remains the longest continuously used piece of American military headgear – the helmets are so common and so plain that most collectors look right past them. Here however is one worth taking another look at – it is a Cold War era helmet, and probably was used in some tropical station, possibly Vietnam by a U.S. Army officer. It features the 1948 pattern officer's cap eagle and it is the Hawley version of the helmet, which remained in use by the Army until the late 1960s.
This example is unstamped, but that's not uncommon for these. It has a brown elastic chinstrap, which I've found to be common on officer's helmets – why I can't say because there is no indication why. Perhaps these were a more comfortable chinstrap, not that it seems anyone used them.
If you were going to own one and only one pressed fiber helmet I'd say get a nice USMC one from World War II (I'm being 100 percent honest). But if you were going to own only one Cold War helmet then this is the one. It is in nice condition, yet appears it may have had some use. It came from an estate sale of a Vietnam Veteran, so it is possible he wore it "in country" but certainly not for mowing the lawn.
SOLD

(Click images below for closer view)
British West Indies Regiment Helmet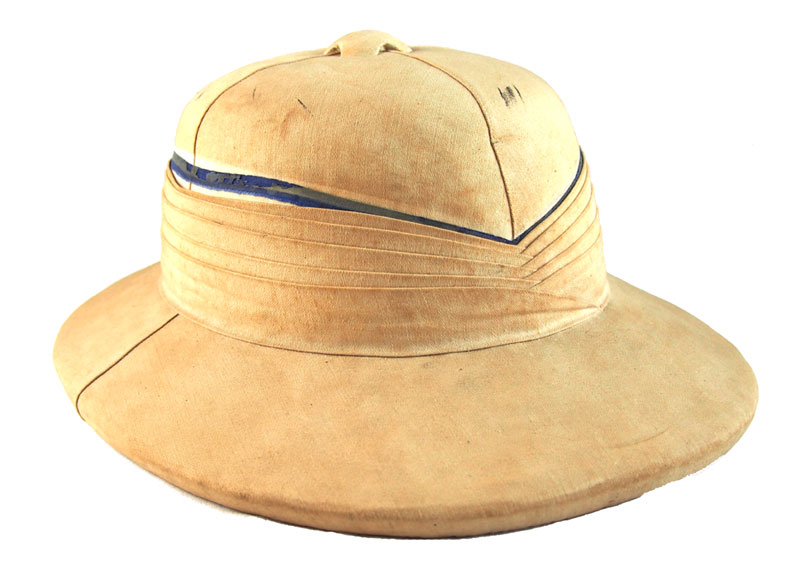 Few sun helmets were actually made in the West Indies, but helmets were imported from Europe – made of cork – and from India, which were made of shola pith. The pith helmets are actually rarer, likely because of the distance from India.
However, the British West Indies Regiment adopted pith helmets, and these included private purchase officers helmets such as this example offered for sale. It is the classic "pith helmet" with a multi-fold puggaree, including a strip of blue fabric indicating use by the regiment. This helmet was likely used by a British officer in the interwar period before it was disbanded in 1927.
This is a fine example of a rare helmet with only minimal staining and few small "dents" to the pith material. The chinstrap is broken,  but it otherwise displays quite well. It is reasonably priced.
Price: $100 plus shipping

(Click images below for closer view)
French Model 1931 Sun Helmet
Introduced in the early 1930s the French Model 1931 sun helmet was used throughout World War II and into the 1960s. Offered here is a classic example of the earliest version of this helmet pattern. It is dated 1939 but has no badge. It is likely that this particular helmet was never issued or was only used briefly.
It could shows some storage wear, but otherwise is in overall excellent shape. This is one of the finest examples of a French M31 that I've seen, and the cork is solid.
Price: $150 plus shipping

(Click images below for closer view)
Italian Police Sun Helmet (City of Milan)
The Italian police and paramilitary forces continue to use sun helmets in the summer months. Offered here is an issued example of the classic Italian police sun helmet. It is based on the Model 1911 sun helmet, but is made of plastic or fiberglass. This example is in excellent condition apart from minor storage wear. Even the original maker labels are present.
It is hard to find such a nice example of an Italian summer sun helmet, and this example features a modern badge for the City of Milan. It is reasonably priced.
Price: $90 plus shipping

(Click images below for closer view)
French Regional Gendarmie Model 1931 Sun Helmet
A French Model 1931 helmet that features the stamp for manufacture in Marseillaise. This pattern was introduced prior to World War II and used throughout the war. This example features the blue headband to the auxiliary Gendarmie, which took part in actions in North Africa during the war.
The helmet is in overall very good condition apart from some softness at the dome of the helmet near the ventilator. The glue in these French helmets gives out over time and hence there can be softness. This helmet displays very well however and is reasonably priced.
SOLD

(Click images below for closer view)
British "Indian" Pattern Pith Helmet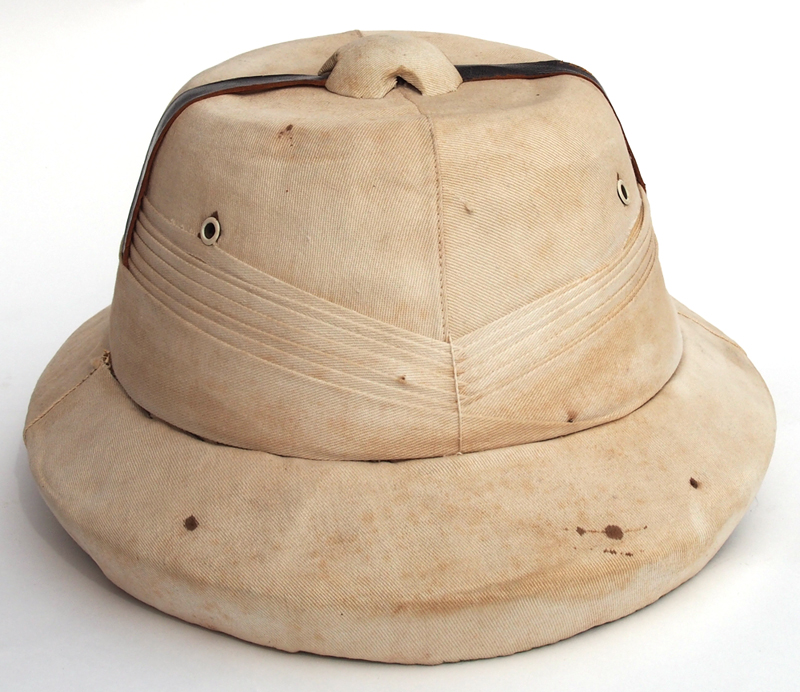 Many tropical sun helmets are called "pith helmets" but this is often times inaccurate and overly generalized. While the pattern helmet originated in India, the sun helmets made in Europe are typically made of cork or felt. However, here I'm offering the real deal – a true "pith helmet." It is an interwar Indian Pattern helmet. It is thicker and bulkier than the Cawnpore or Bombay Bowler patterns, but not quite as large in size as a khaki sola pith hat. Regardless of the nomenclature these helmets have two things in common: first, they were used by civilians and soldiers alike to protect the wearer from the sun and second, I think these are very cool!
This example was made in India, and the label inside says as much. It was also produced by P.S. Sun Hat (which given my initials I also find kind of cool). As noted by the label it was actually produced for the military and likely was a private purchase example to a British soldier – probably an officer. This is only the third example of an India pattern helmet that I've ever owned.
This example is in good condition, however there is some minor staining and the chinstrap is broken. The helmet's brim is starting to come apart from the top "bowl" of the helmet – something all too common with these older helmets. Despite these drawbacks it displays very well and is a nice solid example of a rather uncommon British-used tropical helmet. No collection of British military sun helmets is really complete without one of these – I have one in my collection and I'm offering this one for sale at a very reasonable price.
Price: $75 plus shipping

(Click images below for closer view)
Canadian Pressed Fiber Helmet
The Canadian Army acquired the "fibre" helmets prior to the outbreak of the Second World War for summer training as a substitute for the more expensive and fragile Wolseley helmet. The chosen supplier was the United States based manufacturer Hawley Inc., which also supplied the pressed fiber sun helmets to the United States Marine Corps, United States Army and United States Navy. The demand from Canada was apparently so great that a Canadian factory was set up.
The helmet featured a faux three-fold puggaree, which was the number of folds in the British-produced Wolseley helmet of the era. Unlike the American designed helmets these offered three sets of vents on each fold of the faux puggaree. It features the badge of the Canadian Infantry Corps.
The Canadian version helmets are much rarer than the American versions, and this example shows honest wear but still displays very well.
Price: $100 plus shipping
(Click images below for closer view)