Updated November 1, 2017

World War One Aeroplane Machine Gun – 4 Gun Collection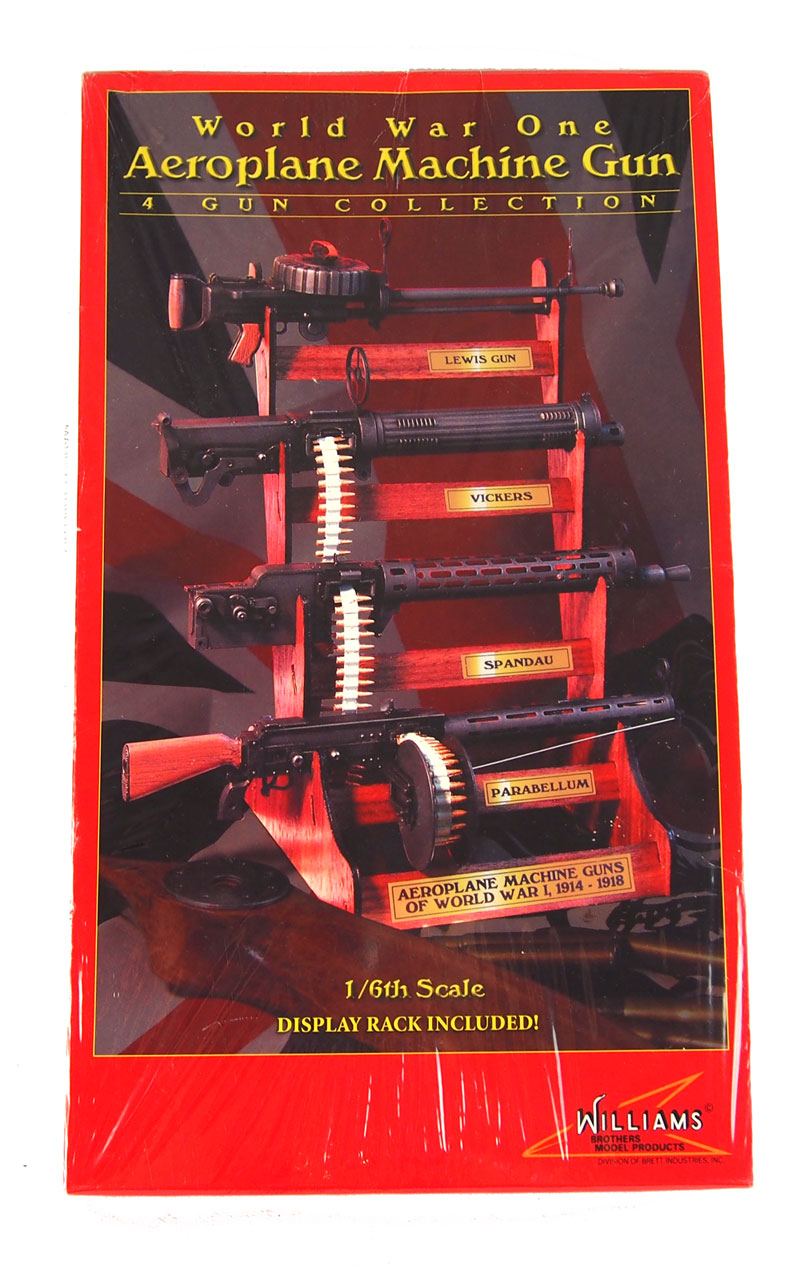 Well I personally "love" machine guns I know that not everyone can collect them, so if you're into the machine guns but can't legally own one , don't have the space, don't have an understanding spouse or simply don't see the need you can jump on this model kit.
Now, you can build four of the classic World War I machineguns with this limited edition, amazingly detailed, 1/6 scale, plastic kit set which includes an American Lewis, a British Vickers, and German Spandau and Parabellum machine guns found mounted on aeroplanes during the Great War. Each features fine details and can be displayed on the included stand. Approximately 7½" long; assembly required.
These are brand new in the shrinkwrapped box. While the box has been slightly flattened the parts inside should be ready for assembly.
Price: $35 Plus Shipping

(Click images below for closer view)

Miniature Cannon #1
This is the first of three miniature cannons we recently picked up. This cannon, which appears capable of firing a VERY small amount of powder, measure 7-inches. It appears to be made of brass and features a naval ship cannon design with a barrel that flairs out. It is mounted on a simple wooden base.
Price: $45 Plus Shipping

(Click images below for closer view)
Miniature Cannon #2
This is the second of the three cannons. It is also made of brass measures about 7.5-inches, and it features a British field gun style design of the late 18th or early 19th century, but is mounted on a simple wood bass. It is also drilled and likely could fire a small amount of powder.
Price: $45 Plus Shipping

(Click images below for closer view)
Miniature Cannon #3
This is the third cannon, and it measure about 8-inches. It is stamped 1776 but was likely made to commemorate the American Revolution – and according to our research could date to the centennial in 1876. This heavy iron cannon is capable of firing black powder as well and like the other cannons is mounted on a simple wood base. Its design is similar to the 1841 Field Cannon, which seems to be an interesting choice to commemorate the Revolution!
SOLD

(Click images below for closer view)
Fort Kandahar Playset
We almost said "they don't make playsets like they used to," but actually they do. Here is a modern Fort Kandahar Playset that has the look and design of a more vintage playset from days gone by. This one isn't the most "politically correct" playset either – it is the British regulars and Indian Sepoys defending the fort from Afghans, but I have to say it is jolly good fun. This one is complete with the original box (which is slightly nicked). It features all of the components including 20 British Figures in Action, 20 Indian Army Figures in Action, and 20 Afghan Figures in Action. In fact it seems that this one may have some "volunteers" to aid the Afghans including a couple of mounted "Arabian" looking soldiers. These must have been from another set but are included with this one.
As noted by the maker it also includes: Easy to Assemble 18″ Square Fort, 11 Building Fronts, 1 Flag Pole with Base, 1 Ladder and 2 Front Door.
This has never been played with or set up, but is complete. Set this one up, put on the pith helmet, and watch Gunga Din, The Far Pavilions or Flame Over India to get into the full experience. A truly jingoistic toy for would-be empire builders!
Price: $60 Plus Shipping

(Click images below for closer view)
Panzer General II Video Game Promotional Pen

Panzer General II has been considered by "grognards" (hardcore war gamers) to be among the best military computer simulations of the 1990s. Yes, we're talking old school games now.
Here is an extremely rare promotional item that should appeal to fans of the games as well as anyone who just likes tanks and tank accessories. It is a sliding pen that allows users to blitzkrieg with a Panther tank… or retreat as the case may be.
The pen is 20+ years old and it doesn't have a ton of ink in it, so I wouldn't plan on writing the next Panzer manifesto with it. It is a little faded and the clip is slightly bent. However for the tank collector who has it all, here is one more cool piece to add to the collection.
Price: $15 Plus Shipping

(Click images below for closer view)
Late 19th/Early 20th Century Toy Cannon
There are plenty of toy cannons but most look more like toys than actual cannons. Here is a toy cannon for the serious cannon collector. It is a brass cannon that measures about 11 inches. It is mounted on a brass field carriage and total length is 16-inches. It is well made and likely dates to first half of the 20th century or earlier.
This one isn't drilled to fire but it does make for an impressive miniature cannon. One nut is missing but it shouldn't be too hard to find a decent replacement. This would make a nice desk ornament for those who like to bring out the big guns but lack the room.
Price: $75 Plus Shipping

(Click images below for closer view)


60mm Highlander Toy Soldier Collection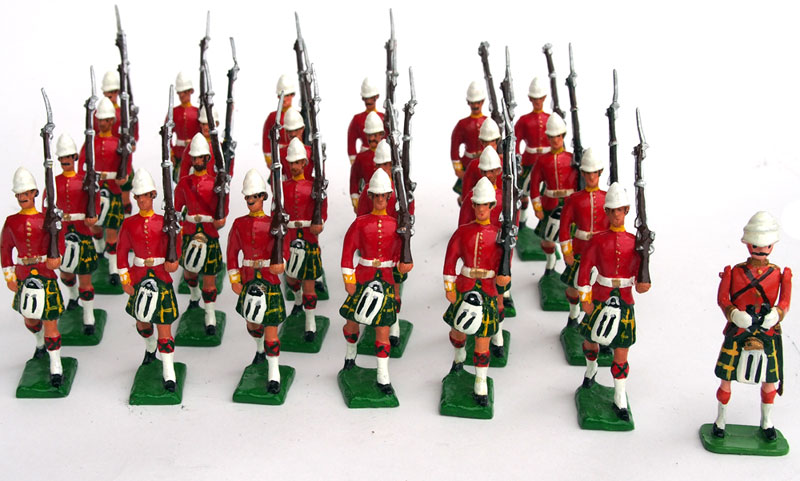 Here is your chance for your very own "Thin Red Line" – a total of 24 60mm Scottish Highlanders in marking order with an officer with binoculars. These vintage soldiers are part of the "British Bulldog Series" likely from the 1970s or earlier. The officer has moveable arms, so he can raise the binoculars. The soldiers are wearing scarlet tunics, plaid kilts, and each has a white foreign service helmet – for either deployment to India or Egypt in the 1880s.
These were hand painted and are in overall excellent condition apart from two with broken bayonets, and these are reasonably priced for a group of 25 soldiers.
Price: $175 Plus Shipping

(Click images below for closer view)
Decorative Model Airplane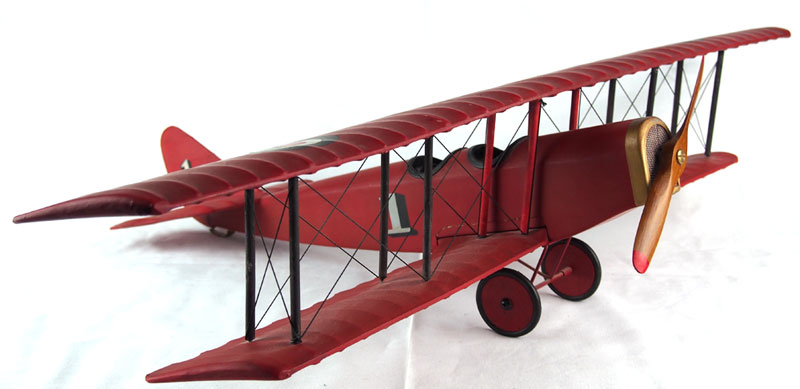 OK, so it has British markings but otherwise we bet Snoopy might think was the Red Baron's plane (even if it isn't a Fokker Tri-Plane). Either way it might make a cool edition to a man cave, war room or library. This is a quality scale model of a bi-plane trainer and it has a wingspan of 31.5 inches and a total length of 21.5 inches. Some real effort went into building this one.
Price: $75 Plus Shipping

(Click images below for closer view)
USMC Toy Holster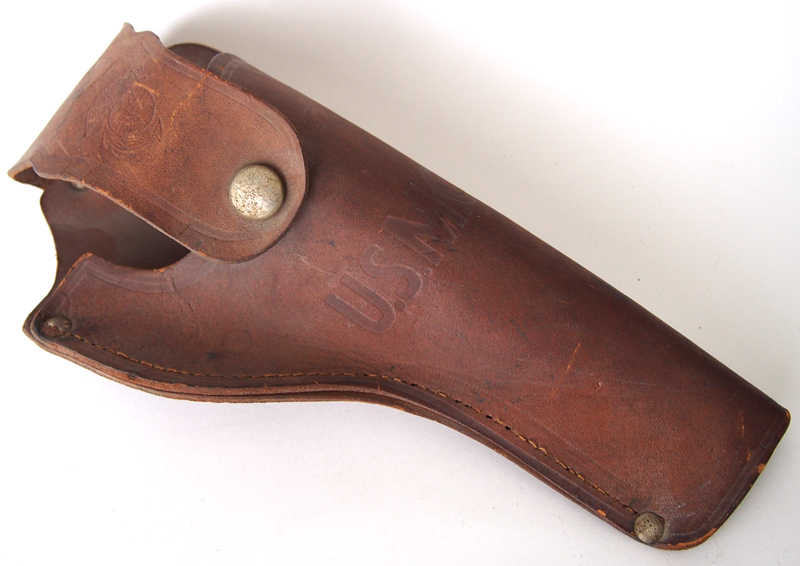 This holster is stamped USMC and has the Eagle/Globe/Anchor (EGA). It is even made of leather (or a close proximity like "genuine replica leather") – but it appears this to be a vintage toy holster. My research determined that this was sold in the 1950s along with a faux USMC belt and a cap gun. Unfortunately the cap gun and belt are long gone, but this holster is in overall excellent condition for its age.
This one should appeal to toy collectors as well as USMC collection, and this holster is priced accordingly.
Price $25 plus shipping
(Click images below for closer view)